Introducing BobeePass FIDO 2nd Gen Card: The first FIDO L2 certified 3-in-1 card with NFC, BLE, and USB interfaces. Enhanced security with a built-in rechargeable battery and fingerprint sensor. Go passwordless and embrace the authentication future.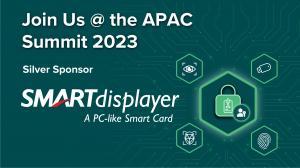 Proud Silver Sponsor of FIDO APAC Summit 2023! Join us at the event to learn more.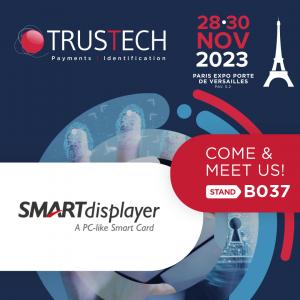 Catch Us at Trustech 2023 in France! SmartDisplayer is headed to Trustech, and we can't wait to connect with you there.
SmartDisplayer Taiwan to Showcase Innovative BobeePass FIDO 2nd Gen Card with FIDO L1 and L2 Certification at FIDO APAC Summit 2023 and TRUSTECH 2023.
TOKYO, JAPAN, August 28, 2023/EINPresswire.com/ — SmartDisplayer Taiwan, a leader in smart card design and manufacturing, is poised to unveil its groundbreaking BobeePass FIDO 2nd Gen Card at two esteemed exhibitions: the FIDO APAC Summit 2023 and TRUSTECH 2023. This cutting-edge access control solution, backed by FIDO L1 and L2 certification, is designed to set new standards for secure access management, integrating advanced technology with unparalleled security features.
**FIDO APAC Summit 2023: Elevating Secure Authentication**

Date: August 28-30, 2023

Location: Vinpearl Nha Trang, Vietnam
As the authentication landscape evolves, the FIDO APAC Summit 2023 takes center stage in Vietnam, offering a platform to explore advancements in secure authentication methods. With the vulnerabilities of traditional password-based approaches becoming increasingly evident, organizations across the Asia-Pacific (APAC) region are shifting their focus to passwordless solutions that provide enhanced security. The BobeePass FIDO 2nd Gen Card, with its innovative card-shaped design and rapid fingerprint identification technology, reflects this shift and underscores SmartDisplayer Taiwan's commitment to pioneering secure authentication solutions.
**TRUSTECH 2023: Leading the Evolution of Identity in the Digital Era**

Date: November 28-30, 2023

Location: Paris, France
TRUSTECH 2023, a globally recognized event focusing on identity, digital payment, and security, provides the ideal platform for SmartDisplayer Taiwan to introduce the BobeePass Card's advanced features. In an era characterized by remote operations and digital transactions, the demand for secure identification, authentication, and authorization is paramount. SmartDisplayer Taiwan's participation at TRUSTECH underscores its dedication to addressing these evolving needs. As the global digital payments market continues to expand, the BobeePass Card's FIDO-certified security and versatile functionality hold immense promise.
At the core of the BobeePass Card's innovation lies its unique 3-in-1 interface design. Seamlessly incorporating USB, NFC, and Bluetooth interfaces, the card ensures compatibility across various access systems, catering to diverse security requirements. This advanced design not only enhances usability but also showcases SmartDisplayer Taiwan's commitment to delivering cutting-edge solutions that address real-world security challenges.
A standout feature of the BobeePass Card is its FIDO L1 and L2 certification. This certification underscores the card's stringent security measures, making it suitable for a wide range of application scenarios. The FIDO L1 certification caters to everyday access control needs in settings such as office buildings, residential complexes, and small-scale events. On the other hand, the FIDO L2 certification offers an elevated level of security designed to meet the demands of high-security environments, including government facilities, data centers, and financial institutions.
Moreover, the BobeePass Card features the revolutionary embedded Fingerprint Sensor (FPS). This innovative technology, previously exclusive to laptops and smart devices, now makes its debut on smart cards. This technology showcases SmartDisplayer Taiwan's dedication to pushing the boundaries of innovation in secure access management.
Visitors to both exhibitions will have the exclusive opportunity to explore the BobeePass Card's features firsthand and engage with SmartDisplayer Taiwan's experts. For inquiries and additional information, please contact [[email protected]].
To stay updated with the latest news and insights from SmartDisplayer Taiwan, follow them on [SDT Website] and [YouTube].
About SmartDisplayer Taiwan:

SmartDisplayer Taiwan is a leading smart card designer and manufacturer, renowned for its innovative access control solutions. With an unwavering commitment to security and excellence, the company consistently pushes technological boundaries to provide reliable and sophisticated access control solutions.
Sales Team
SmartDisplayer Technology Co., Ltd.
+886 2 2452 5100
[email protected]
Visit us on social media:
LinkedIn
YouTube
The first FIDO L2 certified card with NFC, BLE, and USB interfaces. Enhanced security with an integrated rechargeable battery and embedded fingerprint sensor.
Originally published at https://www.einpresswire.com/article/651652838/smartdisplayer-taiwan-unveils-bobeepass-fido-2nd-gen-card-with-l1-l2-certification-at-fido-apac-summit-trustech-2023