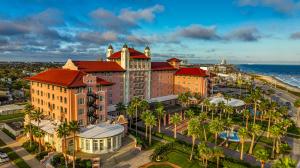 Located on Galveston Island and the sun-kissed shores of the Texas Gulf Coast, Grand Galvez, Autograph Collection – a stunning 219-guest room hotel that envelopes visitors with grand experiences and captivating, gracious services – has joined Autograph Co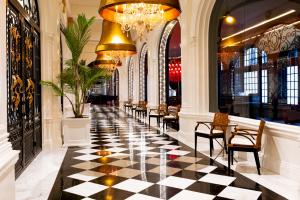 Perhaps the most striking restoration is Peacock Alley in the West Loggia, the grand promenade originally designed for visitors wearing their finest clothes on the way to dinner or a music event. Not seen at the hotel in over 70 years, Peacock Alley is no
"Queen of the Gulf" Celebrates its Elegant and Glamorous Transformation
I renamed the property Grand Galvez to represent my vision of a glamorous destination filled with romance and excitement. Joining Autograph Collection Hotels adds a cachet to everything we offer."
— Mark Wyant, owner, Grand Galvez, Seawall Hospitality LLC and Grand Galvez.
GALVESTON, TX, USA, August 16, 2023/EINPresswire.com/ — Located on Galveston Island and the sun-kissed shores of the Texas Gulf Coast, Grand Galvez, Autograph Collection – a stunning 219-guest room hotel that envelopes visitors with grand experiences and captivating, gracious services – has joined Autograph Collection Hotels, Marriott Bonvoy's diverse and dynamic portfolio of independent hotels championing individuality. The recent renovations bring to life the alluring, luxurious and glamorous personality of Grand Galvez, which embrace and will continue her longstanding, rich mark as an iconic and revered social destination for years to come.
"When I acquired the iconic Hotel Galvez, I renamed it Grand Galvez to represent my vision and the renovations that would restore it to its grand beginnings. All combine to present a glamorous destination with an air of romance and excitement, tapping into a sense of nostalgia from the Jay Gatsby era, a true throwback to a celebrated time of style and glamour," said Mark Wyant, owner, Seawall Hospitality LLC and Grand Galvez. "Joining Autograph Collection Hotels will definitely add a cachet to everything we offer at this newly restored 112-year-old property."
Grand Galvez truly embodies its remarkable history and moniker as "Queen of the Gulf." When it opened in 1911, the hotel, then called the Hotel Galvez, became Galveston Island's symbol of survival following the devastating 1900 hurricane. The hotel has a long and storied history as a treasured vacation, wedding, and event destination for visitors from Texas and the surrounding states.
Modern Sophistication and Stylish Design
The hotel's refreshingly elegant renovations and creative touches, designed by owner Mark Wyant and his interior designer wife Lorenda, intuitively meets the needs of every guest. The renovations emphasize great respect for the iconic architecture and historic design of the property with a focus on the stylish, sumptuous, and sophisticated reputation of the Grand Galvez, creating an interpretation of modernism blended with the energy of the Gatsby era.
Public areas include a beautiful harlequin black-and-white marble flooring with black framing, crystal chandeliers throughout, royal burgundy carpets, and accent draperies. The front desk harkens back to the earlier front desk of 1911 with its iron detailing and glass features. Perhaps the most striking restoration is Peacock Alley in the West Loggia, the grand promenade originally designed for visitors wearing their finest clothes on the way to dinner or a music event. Not seen at the hotel in over 70 years, Peacock Alley is now a wide black and white marbled hall with oversized gold bell-shaped light fixtures enclosing multi-tiered crystal chandeliers leading from the lobby to the spa and Music Hall ballroom. During the renovation, original moldings and ceilings were found in the hotel walls that have been restored for the first time since 1962.
As part of his goal of emphasizing the grand renovations, Mr. Wyant commissioned a landmark Italian marble fountain, which was produced in Italy for the Center Lawn of Grand Galvez. Featuring dolphins, griffins and peacocks around a 4-tiered fountain and water display, this magnificent font was carved from Callacatta marble and is 16 feet tall by 35 feet wide.
To welcome guests as they enter Grand Galvez, the Wyants, along with Dallas-based mosaicist Julie Richey, designed and commissioned a 44-foot by 7-foot Italian-made Murano glass mosaic banner proclaiming the hotel the "Queen of the Gulf," featuring a pink and red oleander garland accented by native shells and a gold banner.
Newly refreshed guest rooms offer a tranquil, casual opulence that soothes and stimulate the senses and is perfect for the guest who is looking forward to a deep and restful night's sleep. The all-white-and-indigo blue rooms are sleek and modern yet cozy with white lacquered, rattan and mirrored interiors offset with light sky blue ceilings.
Elevated Gulf Cuisine and Hauntingly Delicious Drinks
Adjacent to the beautifully restored Peacock Alley, The Founders Bar in the West Loggia is the signature elegant lobby bar with exquisite views of the Texas Gulf. A nod to the five founders of the 1911 hotel, there are portraits of these gentlemen and other historical photographs and mementos featured in the decor. The interior design incorporates beautiful wood floors with oversized burgundy crystal Baccarat chandeliers and chic upholstered chairs. Specialty Drinks include the "Ghost Bride" named for Audra, the famous ghost that still haunts the hotel, and the "Galvez Sling."
Located off the Grand Galvez lobby, Monarch restaurant serves fresh Gulf Coast seafood, steaks, and other delicacies. The decor incorporates elements of a French café with wicker chairs and a celadon and beige color palette. Open for breakfast, lunch and dinner, the restaurant has been in this location since the hotel first opened in 1911.
Open early in the morning and throughout the day, 1911 Espresso Bar is a barista-staffed coffee café in the west lobby serves freshly brewed coffee, teas, pastries, and snacks.
Distinct Amenities and Relaxing Experiences
The Spa at Grand Galvez is a 10,000 square foot oasis of restorative luxury spacious welcoming Grand Galvez guests as well as members of the public. Special rooms include the Relaxation Room, a Steam Room in the Locker Room, a Swiss Shower, a Vichy Treatment Room, as well as seven rooms for Massages, Facials and Couples Massages.
The spacious free-form saline Resort Pool and jacuzzi is surrounded by tropical palm trees, lounge chairs and semi-private cabanas, available by reservation. A special menu for poolside service is offered and a swim-up bar serves a selection of classic Grand Galvez drinks.
Lolo, the luxury resort boutique in the main lobby, has a design and merchandise color palette that are light, bright, and colorful with whimsical touches of pinks, blues and vivid prints, all complementing the seaside location of Grand Galvez. The hotel's signature lavender-based scent created by Dallas-based Niven Morgan is available in hand-poured candles.
Ghostly Stories, Hauntings And The Legend Of Audra
The only historic beachfront hotel in the state of Texas and known as the most haunted hotel in Texas and beyond, the over 110-year-old property continues to have numerous ghostly sightings throughout its history and today. Ghost tours are regularly offered and hosted by Grand Galvez Ghostess. The most famous ghost is Audra, also known as the Lovelorn Bride. To this day, there are many paranormal events that happen in Audra's Room 501, reported by guests, staff and numerous news and film crews.
Romantic Weddings and Memorable Meetings
Surrounded by lush gardens, sprawling greens, and sparkling beaches, the Queen of the Gulf is the most pristine wedding and event venue in Galveston, hosting hundreds of events each year. With two ballrooms and over 13,000 square feet of meetings and event space. The experienced events team takes care of everything including rehearsal dinners, wedding ceremonies, receptions, corporate meetings, seminars, and seated dinners.
Historic Facts
The hotel has hosted U.S. Presidents, beauty queens, military heroes, gamblers, movie stars, entertainers, and more than its share of ghostly sightings. Historic designations that the property has received: National Register of Historic Places, Registered Historic Texas Landmark, Member of the National Trust for Historic Preservation's Historic Hotels of America
The U.S. Coast Guard commandeered the Hotel Galvez for use as its wartime headquarters from 1942 until the building was "honorably discharged" in 1944. The Hotel Galvez was once served as a temporary White House. When President Franklin D. Roosevelt embarked on a 10-day offshore fishing trip in May 1937, the White House staff maintained their headquarters at the Galvez. Secretarial pools, Secret Service men, and other officials occupied the entire fifth floor. All official communications to and from the President during those days was conducted through the hotel, including the composition of President Roosevelt's telegrams of congratulations to King George VI and Queen Elizabeth upon their coronations.
Galveston Explorations
With 32 miles of sparkling Gulf Coast beaches right across the street, Grand Galvez is minutes away from Galveston's attractions that are a short drive or bicycle ride away. The hotel is 1.5 miles from the famed Port of Galveston and its terminal where Carnival, Royal Caribbean International and Disney cruise ships depart and arrive. The hotel is only 45 minutes from Houston's William P. Hobby Airport and 75 minutes from the George Bush Intercontinental Airport.
Grand Galvez, Autograph Collection participates in Marriott Bonvoy – the award-winning travel program from Marriott International – allowing members to earn and redeem points for their stay at the historic hotel, and at other hotels and resorts across Marriott Bonvoy's extraordinary portfolio of brands. With the Marriott Bonvoy app, members enjoy a level of personalization and a contactless experience that allows them to travel with peace of mind. For more information and to make a reservation, visit https://www.marriott.com/en-us/hotels/houga-grand-galvez-resort-autograph-collection/overview/.
Images courtesy of Grand Galvez/Seawall Hospitality LLC
https://www.dropbox.com/sh/v8fxw070b1m8dlr/AADyGqHqRGOfMf-u_kSoBdija?dl=0
Barbara Buzzell
The Buzzell Company
+1 214-912-0691
[email protected]
Visit us on social media:
Facebook
Instagram
Texas Foundation for the Arts video- history of the Hotel Galvez, recently renamed Grand Galvez following extensive and glamorous renovations.


Originally published at https://www.einpresswire.com/article/650107099/newly-renovated-grand-galvez-in-galveston-tx-joins-autograph-collection-hotels