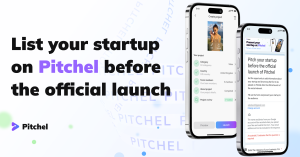 Pre-launch form for startups to be among the first to be placed after the official launch of Pitchel
Watch video pitches in the news feed and find your next investment or inspiration!
With Pitchel, investors and promising startups could easily and quickly find each other on the single platform for successful collaboration in the future.
In today's busy life, finding time for startup research is a challenge. That's why we created Pitchel, using short videos and an easy interface to streamline goal achievement."
— Vitalii Buzenko, CMO at Pitchel
DUBAI, UNITED ARAB EMIRATES, September 13, 2023/EINPresswire.com/ — According to the FED Small Business report, 31% of employer companies have less than $10,000 in startup capital. New projects often start with minimal investment, which is not enough to grow and scale effectively. The process of raising new funds from investors can be long and complicated and end in failure. In October 2023, the new social network Pitchel will launch to simplify and speed up the search for investment opportunities. It will connect startups looking for funding for their projects and wanting to get feedback from an external audience, and investors interested in new progressive ideas.
In the Pitchel app, each startup at any stage can present itself to all users in a convenient and easy-to-understand video format. Investors and anyone looking for inspiration can view startup video presentations in a convenient scrolling format.
The simple and user-friendly concept of Pitchel will make the project pitching process more efficient and accessible to a wide audience of investors around the world. Startups and investors will be able to find out about each other, communicate and create collaborations on one platform in a few steps.
How Pitchel works
A startup team needs to create a profile in Pitchel by entering the name, email, password, or by signing in with an existing Google or Apple ID account. Then they add up-to-date contact details and brief information about the project: goals, problems it solves, competitive advantages, etc. The team creates a short video presentation highlighting the benefits of the project. This is the stage where anyone can maximize their creativity to present the value and key ideas of the startup to investors and stand out from the crowd.
Investors and other registered users watch video pitches in their news feed and select the startups they like best. They can browse startup profiles, bookmark the favorites, and later review them in the likes history. Investors can check the project details with the team directly through the app to make informed choices.
The social networking format allows using Pitchel for business, turning innovative ideas into real successful projects. With the Pitchel app, all users have investment opportunities anywhere in the world.
Opportunity for startups to join Pitchel before the official launch
Pitchel gives startup owners the opportunity to fill out a pre-launch form with information about their startup to get priority for project placement right after the social network launches.
What should startups do to join?
Fill in information about the startup and the team: category, country, team members, logo, project name and short description. Upload a short video presentation of the project that will be displayed in the news feed to potential investors and other users. Wait for the launch of Pitchel!
The process of raising funds to launch projects, grow and scale will become simple and accessible to everyone. The opportunity to invest in new ideas will become available worldwide with the social network Pitchel.
Vitalii Buzenko
Pitchel
+971 52 331 4542
[email protected]
Visit us on social media:
Instagram
TikTok
Facebook
Twitter
LinkedIn


Originally published at https://www.einpresswire.com/article/655235158/new-social-network-pitchel-easy-connection-between-investors-and-startups