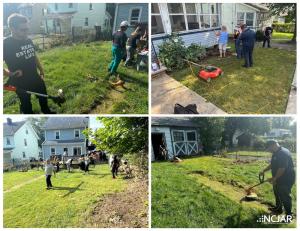 NCJAR's Community Care Day in West Orange: Uniting volunteers for home improvements and community spirit on September 8, 2023.
WEST ORANGE, NEW JERSEY, USA, September 15, 2023/EINPresswire.com/ — On September 8th, 2023, the North Central Jersey Association of Realtors (NCJAR) hosted its highly anticipated annual Realtor Community Care Day in West Orange. This heartwarming event celebrated the essence of community and philanthropy, bringing together a dedicated team of volunteers who selflessly donated their time and energy to make a significant impact on the local community.
The primary focus of this remarkable event was to provide essential exterior maintenance work to homes in the West Orange area. With sleeves rolled up and hearts full of compassion, volunteers engaged in a variety of tasks, including deck painting, grass cutting, and gardening. These efforts not only enhanced the aesthetic appeal of homes but also improved the overall quality of life for the residents.
One standout individual who played a pivotal role in ensuring the event's success was Chris Stanton of MLB Mortgage.
His invaluable resources and contributions were instrumental in providing the necessary tools for the maintenance work, while also generously providing nourishment to the dedicated volunteer crew, ensuring they remained energized and motivated throughout the day. NCJAR extends its sincere gratitude to Chris Stanton for his remarkable support.
In addition to Mr. Stanton's efforts, NCJAR acknowledges and appreciates the contributions of other key individuals, including Karl Aubain, Fatima Santiago, and Helen Santana, who played integral roles in making Realtor Community Care Day a triumph.
NCJAR's Realtor Community Care Day was not merely about physical improvements; it was about fostering a sense of unity and camaraderie within the community. On this day, people came together with a shared purpose – to give back to their neighbors and make a positive difference in their lives.
In summary, NCJAR's Realtor Community Care Day vividly showcased the incredible power of community involvement and the unwavering willingness of individuals to make a meaningful impact by dedicating their time, resources, and expertise to enhance the lives of others. It was indeed a remarkable day of giving back, a shining example of the transformative change that can occur when a community unites.
Ella Mae Gading-Delacruz
NCJAR
+1 973-425-0110
[email protected]
Visit us on social media:
Facebook
Twitter
LinkedIn
Instagram
YouTube
TikTok


Originally published at https://www.einpresswire.com/article/655974883/ncjar-s-annual-realtor-community-care-day-in-west-orange-a-heartwarming-display-of-community-spirit-and-philanthropy