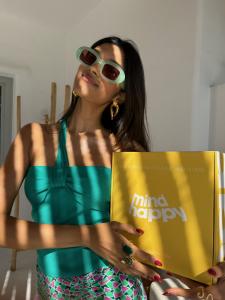 Reconnecting with Joy and Well-Being: Mindhappy's Unique Approach
NEW YORK, NEW YORK, UNITED STATES, November 17, 2023 /EINPresswire.com/ — Mindhappy, a trailblazer in the world of well-being and authenticity, is proud to announce its mission to reintroduce the power of play into our lives. By fostering meaningful connections and embracing the joy of creativity, Mindhappy is revolutionizing how individuals find relaxation and fulfillment in today's fast-paced world.
In an era where the pursuit of well-being often feels complex and elusive, Mindhappy offers a refreshingly straightforward approach. They believe that well-being starts with genuine connection, both with ourselves and with others. It's about finding joy, rediscovering creativity, and celebrating the beauty of play.
Mindhappy was born out of the deeply personal journey of its founder, a former supply chain executive at a $1.5 billion startup with extensive experience at companies like Amazon. Driven by a desire to make a positive impact on people's lives, she made the courageous decision to leave her successful corporate career and move back in with her parents to bring this heartfelt project to life.
The Heart of Mindhappy:
Mindhappy's philosophy is rooted in the belief that everyone deserves moments of authentic joy and connection. Their mystery subscription boxes, carefully curated with premium art supplies, unique relaxation tools, and hand-selected products, are designed to rekindle the spirit of creativity in every recipient. It's not just a product; it's an invitation to play, explore, and share moments of joy with loved ones.
Community and Connection:
To showcase the transformative power of Mindhappy, they recently hosted a community event in Los Angeles that left attendees inspired and uplifted. Renowned dancer Cami Arboles, who taught SZA how to dance, attested that she had attended numerous wellness events in LA, but their gathering stood out as the most meaningful and intentional. Attendees engaged in authentic conversations, forming connections that left them with a deep sense of contentment and joy.
A Message of Simplicity and Authenticity:
Mindhappy delivers a message of simplicity in a world often characterized by complexity. You don't need to follow rigid wellness routines or engage in intense self-care to find relaxation and happiness. Sometimes, it's about tapping into the playfulness we all enjoyed as children and embracing the authenticity within us.
Join the Mindhappy Movement:
They invite individuals to join them in the journey of rediscovering well-being through play, creativity, and authentic connection. Learn more about Mindhappy and their mission to redefine well-being for the modern age by visiting their website at www.mindhappy.com
About Mindhappy:
Mindhappy is a trailblazer in the world of well-being and authenticity. They are dedicated to inspiring individuals to lead happier, healthier, and more fulfilling lives by reconnecting with the power of play, creativity, and genuine connection. Their subscription service is more than a product; it's a catalyst for positive change in the lives of those who embrace it.
Mindhappy invites individuals to rediscover well-being through the simple joys of play and the authenticity of connection.
Trustpilot – https://www.trustpilot.com/review/mindhappy.com
Zabel Castillo
Mindhappy
email us here
Visit us on social media:
Instagram
TikTok
Other
Community Event Recap in LA


Originally published at https://www.einpresswire.com/article/669324531/mindhappy-redefines-well-being-with-the-power-of-play-and-authentic-connection