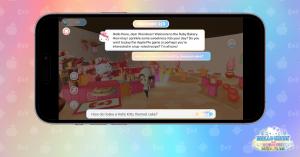 Engage with Hello Kitty in Real-Time Conversations in the Metaverse
The integration of AI technology amplifies the Hello Kitty Seven Wonders experience. Our partnership with Sanrio Hong Kong continues to push the boundaries of the metaverse with this new feature."
— Gordon Kwok, CEO of MetaGaia
HONG KONG, CHINA, September 6, 2023/EINPresswire.com/ — MetaGaia and Sanrio Hong Kong today announced the introduction of ChatGPT in Hello Kitty Seven Wonders digital destination in MetaGaia. MetaGaia is the world's first metaverse with a ChatGPT Oracle. Starting today, fans can engage in real-time conversations with Hello Kitty within Hello Kitty Seven Wonders.
This groundbreaking feature offers users an unparalleled interactive experience, utilizing artificial intelligence technology trained with knowledge of Hello Kitty to bring the beloved character to life. Engage in one-on-one chats with Ruler Hello Kitty, Dreamcatcher Hello Kitty or Baker Hello Kitty, allowing for a more personal and immersive connection within the Hello Kitty Seven Wonders digital destination.
"The integration of AI technology amplifies the Hello Kitty Seven Wonders experience," said Gordon Kwok, CEO of MetaGaia. "Users can talk directly to Hello Kitty, for example asking Ruler Hello Kitty about Hello Kitty Seven Wonders, asking Baker Hello Kitty for instructions on how to bake a cake etc. Our partnership with Sanrio Hong Kong continues to push the boundaries of the metaverse, and this new feature represents our commitment to offering fans innovative ways to connect with their favorite characters."
In addition to real-time chats, users can enjoy a myriad of Hello Kitty-themed digital items, activities, minigames, augmented reality experiences, social features and more, making Hello Kitty Seven Wonders a unique and captivating destination within the MetaGaia metaverse.
The introduction of the ChatGPT function comes on the heels of the recent pop-up event at Citygate Outlets in Hong Kong, enabling fans to immerse themselves in the physical world of Hello Kitty.
gary bird
43PR
+1 831-888-9011
email us here
Originally published at https://www.einpresswire.com/article/654142695/hello-kitty-seven-wonders-introduces-chatgpt-function-in-metagaia-metaverse