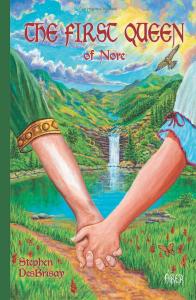 LOS ANGELES, CA, USA, August 31, 2023/EINPresswire.com/ — Author Stephen DesBrisay is officially launching his latest novel, "The First Queen of Nore" now available on Amazon Books. "The First Queen of Nore" is a fantasy, adventure, coming-of-age love story with rhyming poetry and universal life lessons. It also has humor, mystery, action, forbidden love, self-discovery, heartbreak, lies, deception, and redemption throughout its storyline.
"The First Queen of Nore" is the prequel to Stephen's first published book, "The Princess Guardian of the Secret". It is the amazing tale of the original kingdom and how it was split into the two rival kingdoms depicted in the first book. As revealed in the storyline, "This is the tale of how that splitting was done and how love saved the lives of almost everyone."
A young princess's destiny isn't what she thought it would be. On a life-changing journey, she discovers that she is meant to be so much more than just a queen, and that gives her the courage to save her kingdom and follow her dream. This amazing story has a wonderful timely message of hope, empowerment, acceptance, and forgiveness.
About the Author: Stephen DesBrisay
Stephen DesBrisay was born in Hollywood, California, and grew up in Manhattan Beach and Newport Beach California where he discovered his love for surfing. Finding his path in the entertainment industry, Stephen became a professional music producer and audio engineer. Later, he worked as a film grip and electrician on the set of movies and commercials in Los Angeles. He also produced his own films for corporate and non-profit organizations. His love of music led him to work with musical artists as a manager, producer, and consultant. Stephen has worked on various film production teams helping to fund and finance films.
Stephen later moved to Houston, Texas where he soon discovered his passion for writing fiction novels and prose. His journey as an author began with the release of his first published book, " The Princess Guardian of the Secret". Now with the launch of his second published work, "The First Queen of Nore", both original novels are currently being considered for film adaptation by major entertainment companies.
Stephen DesBrisay's new novel, "The First Queen of Nore", is now available on Amazon Books. See link: https://www.amazon.com/dp/B0CFCT1KF6
Social Media Links:
Instagram: https://www.instagram.com/stephendesbrisayauthor/
Facebook: https://www.facebook.com/StephenDesBrisayAuthor/
Linkedin: https://www.linkedin.com/in/stephen-desbrisay-6352a64/
TikTok: https://www.tiktok.com/@stephendesbrisayauthor
Celebrity News
AWJ Platinum PR
email us here


Originally published at https://www.einpresswire.com/article/653133937/author-stephen-desbrisay-launches-his-new-novel-the-first-queen-of-nore