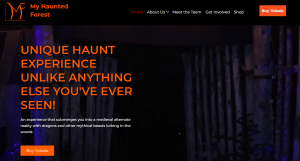 MyHauntedForest the biggest Halloween event in WA has become a legendary haunt, offering a comfortable yet unique, experience like no other with lots of scares!
VAUGHN, WASHINGTON, UNITED STATES, August 4, 2023/EINPresswire.com/ — MyHauntedForest.com, the largest and only Haunted Forest in Washington State, proudly announces its 8th year of captivating guests with spine-chilling Halloween entertainment. With over 40,000 visitors in the past seven seasons, MyHauntedForest.com has become a legendary haunt, offering a comfortable yet unique, all-outdoor walk-through experience like no other with lots of scares!
A Record-Breaking Halloween Event
As one of the largest Halloween events in Washington State, MyHauntedForest.com continues to amaze and delight thrill-seekers from near and far.
"Even during the challenging year of 2020, MyHauntedForest.com was able to remain open to the public, strictly adhering to Covid regulations. This dedication to providing a safe and thrilling experience resulted in one of our most attended years yet, solidifying our position as the go-to destination for heart-pounding Halloween entertainment." said Mark Dodsonthe The CEO of MyHauntedForest.com
Step into the dark of the forest and immerse yourself in a world of terror and excitement as MyHauntedForest presents an unparalleled theatrical production. Our captivating storyline, featuring a powerful Queen, epic battles, death, and an enigmatic portal, will keep you on the edge of your seat from start to finish.
Empowering Youth and Giving Back to the Community
Beyond providing heart-pounding thrills, MyHauntedForest takes immense pride in empowering the youth of our community. We have employed dozens of high school students, offering them valuable first jobs and references that have led to full-time employment opportunities. Furthermore, we believe in giving back to our community and have organized food drives and fundraisers that support our local First Responders, embodying the spirit of the season.
Collaborating with the Community
As an active participant in local community events, MyHauntedForest is deeply committed to strengthening bonds within our region. We proudly participate in the Key Peninsula Farm Tour, Harvest Fest, Key Peninsula Log Show, and other local events, engaging with our neighbors and fostering a sense of togetherness. Our partnerships with equestrian events in Area VII and support for the Area VII Young Rider Championship team demonstrate our dedication to promoting local talent and achievements.
Your Exclusive Invitation to the Ultimate Haunting
Prepare to have your fears realized and your heart race as you enter the realm of MyHauntedForest. Tickets for this year's haunt are now on sale at a huge discounted rate. Don't miss out on this spine-tingling experience! Secure your tickets today at: https://www.strideevents.com/events/my-haunted-forest/2023/tickets
For more information, interviews, or media inquiries, please contact:
Mark Dodson at: [email protected], or call (253) 617-4317‬
About MyHauntedForest:

MyHauntedForest, the largest and the most exciting Haunted Forest in Washington State, has been thrilling audiences for eight years. With a captivating storyline, live scares, and a commitment to community engagement, MyHauntedForest remains the ultimate Halloween destination.
Mark Dodson
MyHauntedForest
+1 253-617-4317
[email protected]
Visit us on social media:
Facebook
Twitter
Instagram
YouTube
TikTok
Other
My Haunted Forest Promo


Originally published at https://www.einpresswire.com/article/648160804/myhauntedforest-washington-state-s-premier-halloween-haunted-experience-celebrates-8th-year-of-terrifying-success