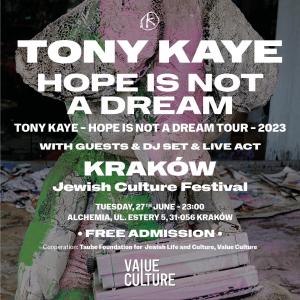 Tony Kaye known for directing American History X will embark on 24 hours in Krakow from 6.28 to 6.29 to begin new documentary series entitled "Value Culture."
I met Tony Kaye two years ago during the height of virtual connection making on the social-audio app Clubhouse. We bonded over music, culture and the power of it. He is a true genius."
— Adam Swig
KRAKOW, POLAND, June 29, 2023/EINPresswire.com/ — Renowned film director, Tony Kaye, best known for directing American History X will embark on 24 hours in Krakow, Poland from June 28th to June 29th to begin a new documentary series entitled "Value Culture." The series will be co-written and produced by Kaye and Adam Swig with Kaye directing. Kaye will also perform as part of the Krakow Jewish Culture Festival in association with non-profit organization Value Culture founded by award winning community leader, Adam Swig.
In this 24 hour visit, Kaye, also a singer-songwriter, will perform at the festival, visit Auschwitz-Birkenau concentration camp, and Ukrainian refugees, before heading back to London to continue putting the finishing touches on his new film The Trainer. He will have a camera and crew in hand to document the experiences, and his 1959 Gibson Country & Western Guitar ready to play one of his many original songs like "Hope is not a dream." Tony will take the stage as part of the festival at 11:00pm on June 28th at Alchemia, Estery 5, 31-056 Kraków, Poland. The event is free. Kaye is coming off of performing at this year's Glastonbury Festival.
"I met Tony Kaye two years ago during the height of virtual connection making on the social-audio app Clubhouse. We bonded over music, culture and the power of it. He is a true genius. We were honored to have Tony participate in many virtual events interviewing holocaust survivors, Dr. Martin Luther King Jr's close friend, speechwriter and legal counsel Dr. Clarence B. Jones, as well as Tony's participation in our arts and music development forums." said Adam Swig, executive director of California non profit organization Value Culture. "I'm extremely excited to join and bring Tony to Poland with Value Culture for the first time to create this new series and to see his creative juices flow at the world renowned Krakow Jewish Culture Festival."
The 32nd edition of the Jewish Culture Festival in Krakow will be held between June 28th and July 2nd. The main program of the Festival features 111 events, including: 24 music events, 15 lectures and meetings, 18 workshops, 13 guided tours, 15 film screenings, 23 visual arts events, 2 ceremonies, and 1 radio broadcast. Additionally, the program will feature about 60 accompanying events. The festival features 121 artists from Poland, Israel, the United States, Canada, Germany, Iran, Turkey and Japan.
Tony Kaye, born 1952 in London, United Kingdom, is a celebrated director of films, music videos, advertisements and documentaries. Pop Music videos, including the video for "Runaway Train" by Soul Asylum, which won a Grammy Award, "Dani California" by Red Hot Chili Peppers, "What God Wants" by Roger Waters, and "Help Me" and "God's Gonna Cut You Down" by Johnny Cash. Kaye is a six time Grammy nominated music video director. His feature film debut was American History X (1998), a drama about racism starring Edward Norton and Edward Furlong. Kaye's second feature, a documentary called Lake of Fire, was about the abortion debate in the United States and nominated for Best Documentary Film at the Independent Spirit Awards, the Chicago Film Critics Association Awards, and the Satellite Awards. Kaye also directed Black Water Transit (2010), Detachment (2011), and is currently in post production for the highly anticipated film The Trainer. Tony is also a prolific visual artist, represented by Vito Schnabel Gallery as a painter.
This will be a special trip for Tony on a personal level as he visits the country of his roots, and will connect with his culture and spirituality as he joins Value Culture on a visit to Auschwitz Concentration Camp with the Krakow Jewish Community Center during the Ride for the Living. Tony's Father is from Gdansk, Poland. Ride For The Living is a comprehensive fitness experience commemorating the Holocaust and honoring the rebirth of the Jewish community in Krakow, Poland combining Holocaust education with a meaningful 60-mile bike ride from the gates of Auschwitz-Birkenau to JCC Krakow.
Value Culture founder Adam Swig will also be featured in a discussion entitled Value Culture, those two words, with New York City and MTV Wild N' Out rapper Kosha Dillz at 5:45pm on June 29th, at Namiot FKZ, UL. Jozefa 36. Krakow.
Special Thanks to Janusz Makuch and Robert Gadek of the Krakow Jewish Culture Festival, Jonathan Ornstein of the JCC Krakow, and all of the Value Culture donors and supporters.
Want to support these initiatives? Please visit www.valueculture.org/donate

##
Contact:
Value Culture:

Adam Swig, Executive Director

[email protected]
Value Culture 501c3 non profit organization founded in 2019 by award winner Adam Swig to make a larger positive community impact after years of community service. It's received national recognition. The mission of Value Culture is to produce and support artistic, educational, charitable, and spiritual events to inspire the next generation to give back to their communities. Value Culture removes barriers to arts, culture, and philanthropy.
Feedia:

Feedia is a leading edge Marketing, Public Relations, Business Development, and Growth Agency specializing in consumer and business to business engagement. Feedia's core areas of subject matter expertise are the technology, social impact, sports, international development, and media sectors. Feedia has aggregated over 40 years of experience in delivering best in class bleeding edge marketing and business development solutions.
Kwasi Asare
Feedia
[email protected]
Visit us on social media:
Facebook
Twitter
LinkedIn
Instagram
YouTube
TikTok


Originally published at https://www.einpresswire.com/article/642005658/tony-kaye-american-history-x-embarks-on-24-hour-whirlwind-tour-of-poland-powered-by-value-culture