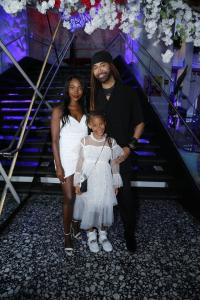 At her party, Mbatani urged guests to give back in support of the interconnectedness of all humanity.
NEW YORK CITY, NEW YORK, UNITED STATES OF AMERICA, August 2, 2023/EINPresswire.com/ — Pam Mbatani, renowned socialite, philanthropist, and talent manager "momager" to the young fashion sensation Aria De Chicchis, celebrated her birthday with a truly memorable party at Skinos in New York City on July 18, also known as Mandela Day. The event was a star-studded affair, attended by several distinguished personalities and celebrities who gathered to honor Mbatani's special day while contributing to worthy causes in honor of Mandela's legacy.
Born in Cape Town, South Africa, Mbatani draws inspiration from the legendary Nelson Mandela, who embodies the spirit of Ubuntu – the belief in the interconnectedness of all humanity. Recognizing the importance of giving back to society, she marked her birthday by encouraging her guests to support a charity of their choice instead of bringing gifts. Some of the attendees graciously donated to the Nelson Mandela Foundation, a fitting tribute to the influential leader's enduring legacy.
"Growing up in South Africa, Mandela's life and principles left an indelible mark on me," said Mbatani. "He taught us the power of unity, compassion, and the spirit of Ubuntu. I was humbled to celebrate my birthday by giving back and inspiring others to do the same. You don't have to be wealthy to make a positive impact in the world."
The birthday celebration at Skinos was an exuberant affair, with several high-profile guests in attendance. Notable attendees included the esteemed fashion stylist to Beyonce, Ty Hunter, basketball star Mamadou N'Diaye, actor Ger Duany, and Sherif Soliman and Hanan Thabet. Additionally, the vibrant event saw the presence of prominent personalities like Arty Dozortsev and his wife Anna, Rocco Ancarola, comedian and author Jeffrey Gurian, Dr. April Ripley, entrepreneur Kinge Monono, and philanthropist Wendy Motsa, among many others. DJ Merk also played Amapiano and Afrobeats tunes at the event, keeping the guests dancing all evening.
Mbatani added, "I was overwhelmed with joy and gratitude for the love and support shown by my dear friends and esteemed guests at Skinos on my birthday. Their presence made my birthday truly special, and everyone's contributions to philanthropy on Mandela Day touched my heart deeply. It warms my soul to witness the spirit of Ubuntu in action, and together, we can make a positive impact on the lives of others."
Communications
Pam Mbatani
email us here


Originally published at https://www.einpresswire.com/article/647574823/talent-manager-pam-mbatani-celebrates-birthday-in-style-at-skinos-in-new-york-city-on-mandela-day