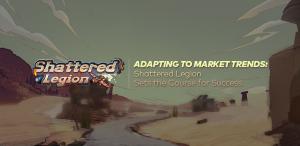 SINGAPORE, SINGAPORE, SINGAPORE, August 25, 2023/EINPresswire.com/ — The current blockchain gaming market
Since the second half of 2021, the GameFi market has experienced a surge in popularity and demonstrated remarkable growth. This growth has been fueled by the convergence of gaming, blockchain, and decentralized finance. The integration of play-and-earn games, blockchain gaming platforms, DeFi mechanisms, and NFTs has created a dynamic ecosystem that promotes innovation, financial opportunities, and player engagement within the gaming industry.
However, as we entered the second half of 2022 and 2023, similar to other areas of the crypto markets, the hype surrounding existing GameFi projects seems to have dissipated. Certain segments of the market appear to be quite dormant, with fewer new games launching and fewer innovations. Data shows that daily and monthly active users for certain popular GameFi projects have dropped to relative low points, and NFT prices have also plummeted.
On the other hand, there is a steady and growing interest in fully onchain (FOC) games. One of the largest FOC gaming ecosystems, Starknet, has recently released its newest update, attracting significant volume and attention. Paradigm.xyz has just released an article entitled "The Open Problem of Onchain Games," which has invoked thoughts and debates. Additionally, FOC gaming communities are quite active, as FOC game builders at the Loot Realm/Dojo conference have reached a consensus on centering their games around the Loot ecosystem. In contrast to the relatively stagnant traditional GameFi space, there is excitement trending in the FOC gaming space.
Shattered Legion's approach

Under the current market situation, Shattered Legion has tailored its marketing and operational approach to better prepare for any market turbulence.

1. The company is actively seeking partnerships and collaborations with existing renowned projects. Shattered Legion believes that these kinds of mutually beneficial collaborations are essential for spreading its name and attracting interested users. The company has recently reached agreements with Mhaya, Taskon, and Dapdap, sharing knowledge and resources about the market.

2. Shattered Legion recognizes the importance of community building in the success of a blockchain game. After introducing the Ambassador Program a few days ago, the company has received many recognitions and applications. They are proud to onboard C.Pang as their Korean region Ambassador.

3. In keeping up with the market trend of FOC games, Shattered Legion is starting a framework design that allows the relocation of not only in-game assets but also gaming states and essential logics to the desired blockchain. This progress will take some time, and the extent of change will eventually be decided via community governance procedures at https://forum.slg.games/.
The Future of Blockchain Gaming
Despite the recent slump in the crypto game market, it is still expected to witness substantial growth in the coming years. With the increasing popularity of blockchain technology, NFTs, and decentralized finance (DeFi), game developers are exploring new ways to merge gaming and finance. There are already signs of high-quality games testing the market, and Shattered Legion is certainly one of them.
Blockchain games provide game enthusiasts with opportunities to earn real value and rewards through in-game economies and tokenized assets. Furthermore, they have the potential to revolutionize the gaming industry by providing gamers with ownership and monetization options, as well as user-generated content and interactive experiences. As more blockchain-based gaming projects and platforms emerge, the technology will become more mature, and the market is likely to become a significant segment in the broader blockchain and crypto ecosystem.
Vivian Wang
Shattered Legion
+1 (657) 244-6094
email us here
Visit us on social media:
Twitter
Other


Originally published at https://www.einpresswire.com/article/651896729/adapting-to-market-trends-shattered-legion-sets-the-course-for-success