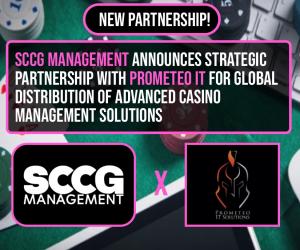 SCCG Management, a global leader in strategic advisory for the gaming industry, is excited to announce a strategic partnership with Prometeo IT
The integration of Prometeo IT's PROMOS system aligns perfectly with our mission to empower the global gaming industry with state-of-the-art technology and services."
— Stephen Crystal
LAS VEGAS, NEVADA, USA, November 7, 2023 /EINPresswire.com/ — SCCG Management, a global leader in strategic advisory for the gaming industry, is excited to announce a strategic partnership with Prometeo IT, a premier provider of integral solutions for the gaming market. This partnership aims to expand the global reach of Prometeo IT's services, which cater to casinos.
Prometeo IT has established itself as a forward-thinking provider in the casino management space with its robust product, PROMOS. PROMOS is a 100% flexible Casino Management System designed to bring cutting-edge technology and analytics to the heart of gaming operations. The system stands out with its ability to provide comprehensive analysis of fixed and dynamic data, optimize casino operating costs, offer customized reporting, and manage loyalty programs with an advanced statistical analysis platform that includes Business Intelligence (BI) capabilities.
Additionally, PROMOS excels in the control of live gaming tables and centralizes betting control through an internal network connection, placing it at the forefront of innovation in the industry.
Stephen Crystal, CEO and Founder of SCCG Management, stated, "The integration of Prometeo IT's PROMOS system aligns perfectly with our mission to empower the global gaming industry with state-of-the-art technology and services. Our strategic partnership signifies a remarkable opportunity for gaming entities worldwide to harness the power of Prometeo IT's cutting-edge solutions, enhanced by SCCG's extensive network and expertise in global distribution. We're excited to bring a system to market that not only streamlines operations but also escalates the strategic decision-making process with its advanced BI tools."
"We are thrilled to join forces with SCCG Management, a distinguished leader known for its strategic prowess in the gaming sector," said Jorge Rojas Rumila of Prometeo IT. "This partnership is more than a collaboration; it's a synergistic union that promises to expand the reach of our PROMOS system, bringing our innovative solutions to a global audience. Working with SCCG, we are poised to set a new standard in casino management technology, ensuring our clients receive unparalleled support and access to groundbreaking tools that are essential for success in the ever-evolving gaming market."
This partnership represents a pivotal step in SCCG Management's ongoing efforts to deliver innovative solutions that drive efficiency and profitability for casino operators globally. By leveraging SCCG's vast distribution network and industry acumen, Prometeo IT is poised to extend its reach, bringing unparalleled technology to a broader audience.
Casino operators interested in exploring Prometeo IT's PROMOS system and the benefits of this strategic partnership can expect comprehensive support and consultation from SCCG Management's experienced team.
ABOUT PROMETEO IT
Prometeo IT offers integral solutions tailored for the global gaming market. Their flagship product, PROMOS, is a flexible and comprehensive Casino Management System that equips operators with essential tools to analyze data, manage costs, and improve customer loyalty. Prometeo IT's innovative approach ensures that their clients stay ahead of industry trends.
https://en.prometeoit.com/
ABOUT SCCG MANAGEMENT
SCCG Management is a premier management advisory firm, featuring experienced leaders from the global gaming industry who deliver expert solutions for strategic success with a focus on iGaming, Sports Betting, E-Sports, and Casino Technology. With a global network spanning over 30 years and international offices in Europe, Africa, Asia, South America, and Latin America, SCCG connects clients with the right strategic partners for global scale growth. As an accelerator for early-stage companies, we promote innovation and empower emerging businesses to achieve their objectives. SCCG also acts as an early-stage investor, providing capital and resources to entrepreneurs developing new and innovative products and platforms.
https://sccgmanagement.com/
CONTACT
Stephen A. Crystal
SCCG Management
+1 702-427-9354
email us here
Visit us on social media:
LinkedIn
Originally published at https://www.einpresswire.com/article/666721711/sccg-management-announces-strategic-partnership-with-prometeo-it-for-distribution-of-casino-management-solutions