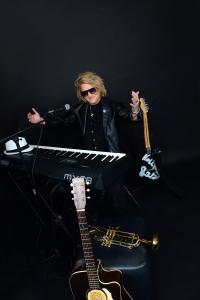 HOLLYWOOD, CA, USA, July 20, 2023/EINPresswire.com/ — Rock artist Cari Cartmill and her new single "Kill Hollywood" has officially landed in the Top 10 of the US rock charts and the US Independent charts. "Kill Hollywood" represents her third consecutive charting single following two successful track premieres, "Blame It on Me" and "Trump's USA".
Cartmill says, "Wow! It's so exhilarating & a great boost as a singer/songwriter to have a song chart well – I'm floatin' back to the Studio to record my new album, 'House of Wheels', in the best frame of mind ever."
Chris Phillips says, "When I first heard Cari's music, what impressed me first was her voice. She is a natural singer/songwriter. She has such a great talent for writing songs with lyrics that tell stories we can relate to and bringing them to life through her recording sessions. I am looking forward to doing great things with Cari, including a label deal soon to be announced."
Cari Cartmill is a singer/songwriter, multi-instrumentalist, and self-produced rock artist. Cari is a seasoned artist known for her high-energy rock shows, engaging audiences nationwide. Cari Cartmill is currently working on her upcoming album, 'House of Wheels,' slated for an early September 2023 release.
For more information and music, visit www.killhollywood.com.
Check out "Kill Hollywood" here: https://caricartmill.com/track/3114615/kill-hollywood
IG & Facebook: @vocalcari
Celebrity News
AWJ Platinum PR
email us here
Originally published at https://www.einpresswire.com/article/645542535/rock-artist-cari-cartmill-lands-third-top-10-charting-single