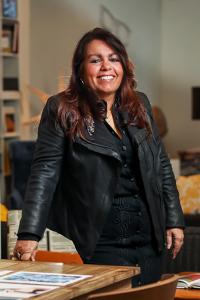 About one of the three 2024 Wise Women: Cathy Corelli Chianese; Entrepreneur, Artist, Advertising Professional
A tiger's stripes are like fingerprints – no two are alike. The stripes pattern is often used to identify individual tigers in the wild.
Your advertising will be given the same unique identity."
— Cathy Corelli Chianese
PROVIDENCE, RHODE ISLAND, USA, November 16, 2023 /EINPresswire.com/ — The Rhode Island Region of the National Organization of Italian American Women (NOIAW) will hold its annual signature event, Epiphany Celebration, Honoring Three Wise Women, a lively luncheon and awards ceremony, on Saturday, 20 January 2024, at 11:30 am at Cafe' Nuovo in Providence.
Three Wise Women, Rhode Island Entrepreneurs, will be honored for their professional achievements and contribution to preserving Italian and Italian-American heritage. The Class of 2024 includes the following:

• Cathy Corelli Chianese, President & Creative Director

CC Media Partners Advertising and Design Agency

• Daniela Ciccone, Co-Founder & Co-Director of Passport to Languages, LLC

• Juliet Grames, Internationally Acclaimed Author
The event is open to members and non-members and women and men and attended by those of Italian and Italian American descent and those who admire Italian culture, speak the language, and/or write scholarly works on Italy and Italian Americans.
NOIAW was founded in 1980 in New York City by a group of Italian-American professional women, and today has over 500 members who reside in the United States and abroad. The organization has four regions: New York, Rhode Island, Connecticut, and Washington D.C. Epiphany Celebrations take place in all four regions in January, in which 12 women, three from each region, are awarded the Wise Woman distinction.
The mission of The National Organization of Italian-American Women is to unite and connect women through Italian culture and heritage, to celebrate the achievements of women of Italian ancestry, to inspire and enrich members with shared interests in cultural programs, and to empower and advance the educational and professional aspirations of current and future generations.
The NOIAW Rhode Island Region seeks sponsorships to support the 2024 Epiphany Celebration. Benefits of sponsorship include the prominent display of company/professional logos on all electronic and printed media, complimentary ticket(s) to the event and verbal recognition in the president's opening remarks at the Epiphany.
About one of the three 2024 Wise Women:
Cathy Corelli Chianese

Entrepreneur, Artist, Advertising Professional
Cathy Corelli Chianese is a renowned figure in the advertising industry. As the President and Creative Director of CC Media Partners Advertising and Design Agency, she leads comprehensive advertising campaigns from strategic marketing to compelling content creation.
Cathy's journey began with a Fine Arts degree, starting as an Advertising Account Executive before founding CC Media Partners in 1997. The agency is highly regarded for its extensive marketing, design, and impactful advertising. In 2015, she expanded her offerings with Two Cats Design Studio, providing diverse creative radio, television, and digital media solutions.
Her commitment to long-term client partnerships is unparalleled; Cathy personally oversees each project, providing expertise and unwavering support. CC Media Partners and Two Cats Design Studio deliver creativity across various mediums without exceeding budgets. Beyond her professional endeavors, Cathy Corelli actively supports charitable organizations and nurtures professional connections.
Cathy embodies the transformative power of heritage, drawing inspiration from her Italian-American roots, particularly her father's profound wisdom. She pays heartfelt tribute to her heritage, recognizing her father's influence instilling in her a blend of cultural richness, vibrant energy, and an unwavering zest for life. His teachings have shaped her personal journey and ignited a passionate drive that propels her professional pursuits. Additionally, Cathy acknowledges her mother's German heritage, which also played a vital role in her success. Combined with her father's emphasis on nurturing relationships and welcoming others with an open heart, the founding of CC Media Partners was a fusion of her parents' influence, characterized by the attributes of determination and resilience.
See the CC Media Partners Advertising and Design Agency website: https://ccmediapartners.com/
National Organization of Italian American Women

Rhode Island Region Council

Adele Assante Carlson

Jennifer DiBiasio

Marie DiBiasio

Karen Monti Flynn

Daniela Mansella Paolino

Marilyn Salvatore

Leah Carlson Souza

Robin Tagliaferri

Natalie D'Alessandro Volpe

Gianna Tori DiBenedetto Zannini
###
Cathy Corelli Chianese
CC Media Partners
+1 401-556-0286
email us here
Visit us on social media:
Facebook
LinkedIn
Instagram


Originally published at https://www.einpresswire.com/article/669015771/rhode-island-region-of-the-national-organization-of-italian-american-women-noiaw-announce-2024-wise-women