Hotels using digital signage screens
Pickcel currency app can be used to show currency exchange rates
Pickcel AQI app can be used to show Air Quality Index of a location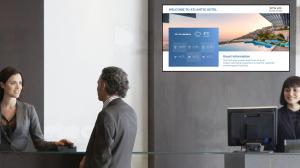 Hotels using digital signage screens in lobby
Pickcel ties up with big hospitality names such as Hyatt, Hilton, and Radisson to raise the bar for a stellar experience and make the guest stay near perfect.
Our goal is to empower the hotel industry and make their customer experience truly exceptional with cutting-edge digital signage solutions, bridging the gap between technology and hospitality."
— Basudev Saha, CTO & co-founder of Pickcel
NEW YORK CITY, NEW YORK, UNITED STATES, September 15, 2023/EINPresswire.com/ — Pickcel, one of the leading players in the digital signage industry, is keen to extend its services to aid the hospitality industry in reaching new heights and looking to create meaningful and long-term relationships with clients. Like every major industry, the hospitality industry is embracing the digital wave. From engaging customers with all-inclusive virtual tours to using QR-accessible menu cards and self-service kiosks, hotels are jumping to make their hotel experience extraordinary.
Pickcel's solution for industry giants, including prestigious names like Hyatt Regency, J.W. Marriott, Hilton Hotel, Peninsula Hotel, Nirvana Luxury Hotel, and Radisson has been nothing short of transformative. In the race to offer exceptional guest experiences, these leading hotel chains turned to Pickcel to address their challenges, and the results have been remarkable.
Pickcel's bespoke solutions have emerged as a catalyst for change within these renowned hospitality brands, contributing to heightened guest satisfaction and operational efficiency. Powered by Pickcel's cutting-edge technology, these hotels have seamlessly incorporated diverse features, from showcasing captivating promotional videos and immersive virtual tours to delivering targeted advertisements and real-time AQI (Air Quality Index) scores, among numerous others.
Digital signage screens are also being used as interactive digital boards by hotels to promote services like the gym and spa and regional tourist attractions to enhance the tourist's stay. Hotels can use Pickcel's Currency App with international guests to showcase foreign currency exchange buying and selling rates on their digital screens.
Additionally, hotels near the airport where guests stay after arrival or before departure, incorporating real-time flight schedules, are handy. Innovative solutions like these hotels can create a polished and professional brand image while improving customer service and engagement.
In this landscape where meeting and exceeding guest expectations is paramount, Pickcel has cemented its role as an indispensable partner, empowering these industry leaders to stay ahead and consistently deliver unparalleled guest experiences.
"We recognize the immense potential of digital signage within the hotel industry. Our suite of versatile applications and tailored customizations are designed to cater to each client's unique needs." says Basudev Saha, CTO & co-founder of Pickcel.
The advantages of digital signage in hotels are noteworthy. Pickcel's solution for the hospitality industry has been helpful in the following cases:
-Pickcel provides both cloud-based and on-premise services. Hotels can use the Pickcel signage software on the cloud or run it locally on their server.

-By replacing traditional printed materials like menus and brochures with digital displays, hotels save on printing costs and reduce environmental impact.

-The real-time information display, such as weather updates, AQI levels, local events, and news, keeps the guests informed and engaged.

-With personalized messages, hotels can tailor announcements and promotions to individual guests or specific groups, making the guests feel welcome.
Pickcel's digital signage offers a visitor management application for self-check-ins and checkouts, saving hotels time. Using touchscreen technology and visitor management software, guests enter their details and complete the check-in procedure instantly. In this era where people want to enjoy privacy and expect hassle-free stays, having a seamless check-in and checkout process is an exceptional move.
As more and more hotels are turning towards a digital solution, Pickcel's digital signage solution has aided hotels across the globe, enhancing the guest experience worldwide. Trusted by renowned hospitality brands worldwide, including JW Marriott, Radisson, Hyatt, Hilton, Peninsula Hotels, Nirvana, and many more, Pickcel has been instrumental in elevating the quality of stays for guests in countries such as Canada, the USA, the UK, South Korea, Singapore, Lebanon, and India.
About Pickcel

Pickcel is one of the leading names in the digital signage space. Pickcel has served clients globally, with over 1,500 trusted by SMBs and multinational brands. The long list of decorated clients includes Marriott, Radisson Hotels, Hyatt Regency Regency, Mercedes, Amazon, Decathlon, Etisalat, and many more. Their software currently powers 100,000+ screens across 30+ countries. As one of the world's fastest-growing digital signage software companies, the company supports innovation and leads with the motto "to usher in a new era in service delivery." The company has several partnership programs and always seeks collaborations with regional brands.
Pickcel Contact
Pickcel Digital Signage
+1 916-659-6965
email us here
Visit us on social media:
Facebook
Twitter
LinkedIn
YouTube


Originally published at https://www.einpresswire.com/article/655722768/pickcel-s-innovative-digital-signage-solutions-shine-as-the-hospitality-industry-embraces-digital-change