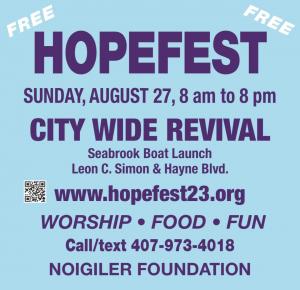 Frank Scurlock, Louisiana Gubernatorial Candidate, Sponsors Hopefest: A Festival of Faith, Fellowship, and Family
We've orchestrated a lineup that engages not only the spiritual core of our community but also adds elements of fun and celebration"
— Frank Scurlock
NEW ORLEANS, LOUISIANA, USA, August 25, 2023/EINPresswire.com/ — Frank Scurlock, a gubernatorial candidate for Louisiana, announces the sponsorship of Hopefest. The event is scheduled for Sunday, August 27, from 8 am to 8 pm at the Seabrook Boat Launch, located at Leon C. Simon & Hayne Blvd.
"Hopefest aims to be a call to unity, love, and community involvement," says Frank Scurlock. "We invite the community to join in this event focused on faith, family, and community."

Schedule and Activities
The festival starts at 8 am with a Morning Prayer Service, followed by music from DJs until 11 am. Subsequent activities include performances by local religious organizations.
"We've organized a range of activities designed to appeal to both the spiritual and social aspects of the community," states Scurlock.

Festival Features
Re-Commitment Ceremonies: An opportunity for couples to renew vows.

Baptisms: Sessions are planned for spiritual renewal.

Live Streaming: The event will be available online through various platforms.

Speakers: Individuals like Reverend Wallace from the Coalition for Change will speak.

Fireworks: A fireworks display is planned for 8 pm.
Beyond religious observances, Hopefest offers:
Inflatables: An inflatable playground is available for attendees.

Food: A selection of local cuisine will be provided.

Music: Various musical acts are scheduled.

Movies: Films will be screened during the event.
Call for Participation
Hopefest is extending an invitation to church choirs, musicians, and speakers to contribute their talents.
"If you are interested in faith, community, and uplifting others, Hopefest provides a platform," Scurlock adds.

Conclusion
Hopefest aims to be a day of joy, inspiration, and community connections. The festival is designed to be inclusive and seeks to bring together diverse communities within Louisiana.
"We aim to use Hopefest as a step toward fostering unity and positive change," concludes Frank Scurlock.
Morgan Thomas
Rhino Digital, LLC
504-875-5036
email us here
Visit us on social media:
Facebook
Originally published at https://www.einpresswire.com/article/652018407/new-orleans-hopefest-is-this-sunday-august-27-2023-at-the-new-orleans-seabrook-boat-launch