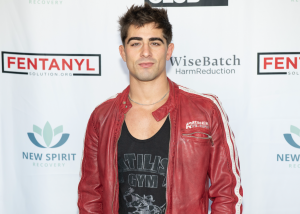 Jason Cohen utilized his recent Narcan training to save a life during an overdose crisis, spotlighting the crucial role of community preparedness.
Our aim is to equip individuals with the knowledge and resources to act swiftly in situations like these, saving lives one Narcan kit at a time"
— Janice M. Celeste, CEO & President of FentanylSolution.org
WEST HOLLYWOOD, CA, UNITED STATES, October 24, 2023 /EINPresswire.com/ — On the evening of Sunday, October 22, a harrowing cry for help led Netflix star Jason Cohen to a life-altering intervention in West Hollywood. Known for his role in the series 'Dated and Related,' Cohen found himself amidst a real-life crisis when alerted to an ongoing opioid overdose. Drawing upon the Narcan training he received at a recent Fight Fentanyl event hosted by FentanylSolution.Org, Cohen acted swiftly, administering Narcan and effectively saving a life before the arrival of emergency personnel.
Just two weeks prior, on October 7, Cohen attended the FentanylSolution.Org event at Craft Boxing Club, aimed at raising awareness about the dangers of fentanyl, a potent synthetic opioid. The event, in collaboration with boxing legend George Foreman III and sponsored by New Spirit Recovery, educated attendees on the use of Narcan (Naloxone), an opioid antagonist used to counter the effects of opioid overdose. Cohen was among the attendees who received a pouch of Narcan and a fentanyl test kit, tools that proved to be lifesaving in the critical moments that unfolded on that Sunday evening.
Upon the arrival of paramedics, Cohen's timely intervention was credited with saving a life, highlighting the potential life-saving impact of community awareness and preparedness surrounding opioid overdoses and the use of Narcan.
Janice M. Celeste, President of FentanylSolution.Org, reflects on the organization's mission in light of this incident. "Our aim is to equip individuals with the knowledge and resources to act swiftly in situations like these. Jason's story is a vivid illustration of our mission in action, saving lives one Narcan kit at a time. Moreover, it's vital that individuals are aware of the necessity to test substances for fentanyl to prevent such life-threatening situations. With resources like WiseBatch, where people can obtain fentanyl test strips, we can take a proactive stance in battling this crisis," Celeste noted.
Shane Wood, Director of Development at FentanylSolution.Org, underscores the gravity of the situation through data. "The fentanyl crisis is escalating. Recent statistics indicate that 6 out of 10 counterfeit pills are laced with fentanyl. The importance of Narcan training cannot be overstated. It's about empowering individuals with the knowledge to act promptly during opioid emergencies, which, as seen in Jason's case, can mean the difference between life and death," Shane said.
This incident not only sheds light on the escalating opioid crisis but also emphasizes the crucial role of organizations like FentanylSolution.Org in fostering community preparedness and education on opioid overdose interventions. Jason Cohen's actions serve as an inspiring example of how knowledge and the right resources can go a long way in making a tangible difference in the battle against the opioid epidemic.
Daniel de Castellane
de Castellane Creative
+1 949-409-4701
email us here
Visit us on social media:
LinkedIn
Janice M. Celeste on the Frontlines: Interview on the Fight Against Fentanyl


Originally published at https://www.einpresswire.com/article/663734098/netflix-star-jason-cohen-s-narcan-training-proves-lifesaving-in-west-hollywood-overdose-crisis