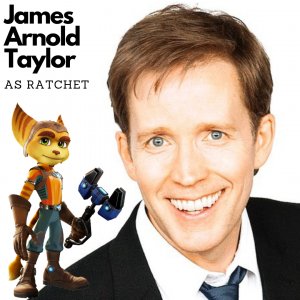 Join voice star James Arnold Taylor aka "Ratchet" of Ratchet & Clank fame this weekend at FanExpoBoston!
Photo of David Kaye smiling alongside his animated character "Clank" from the iconic film and game series "Ratchet and Clank."
This weekend! Join voices of Ratchet & Clank, James Arnold Taylor & David Kaye, at FanExpoBoston! Tickets at https://fanexpohq.com/fanexpoboston/
BOSTON, MASSACHUSETTS, USA, August 3, 2023/EINPresswire.com/ — Get ready to warp into a world of animation and gaming excellence as James Arnold Taylor and David Kaye, the voices behind Insomniac Games smash-hit "Ratchet & Clank" series, team up at FanExpoBoston! Fans, gamers, and industry insiders, here's your exclusive opportunity to meet and interact with the talents that brought to life these beloved characters.
Two Stars, One Epic Event
James Arnold Taylor, the voice of Ratchet, and David Kaye, the voice of Clank, have enchanted audiences with their dynamic performances in the "Ratchet & Clank" games and movie. Their collaboration has become a touchstone in modern gaming and animation.
About James Arnold Taylor
An incredibly versatile voice actor, James Arnold Taylor's work spans animation, film, television, and gaming. From Obi-Wan Kenobi in "Star Wars: The Clone Wars" to Fred Flintstone, his range is boundless. Explore more about James at jamesarnoldtaylor.com and on IMDb at James Arnold Taylor. Connect with James on social media @JATactor.
About David Kaye
Known as the voice of Clank and countless other iconic characters, David Kaye's portfolio includes the unforgettable voices of Megatron and Optimus Prime in Transformers, Arishem in Marvel's Eternals, DC Super Friends, anime icons Treize Khushrenada in Mobile Suit Gundam Wing and Sesshomaru in Inuyasha, and more. Learn more about David's prolific career on IMDB at David Kaye (I) and visit his personal website at davidkaye.com. Follow David @dkayevo.
Join the Adventure at FanExpoBoston
Don't miss the opportunity to meet the dynamic duo, get autographs, ask questions, and enjoy this once-in-a-lifetime experience. Secure your tickets at FanExpoBoston and be part of the excitement!
Press Contact:

Michelle Czernin von Chudenitz,

EPEC Media

[email protected]

424-335-4734 o

310-600-0575 m
Samantha Maez

EPEC Media

[email protected]

424-335-4734 o

562-201-4357‬ m
Samantha Maez
EPEC Media Group, Inc.
+1 424-335-4734
email us here
Visit us on social media:
Instagram
Other


Originally published at https://www.einpresswire.com/article/647904368/ratchet-clank-unite-at-fanexpoboston-meet-the-voices-james-arnold-taylor-david-kaye