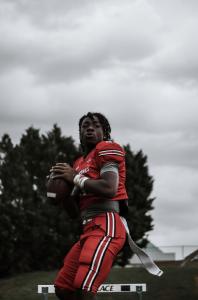 "Celebrating Victory on the Field: Lucius Robinson III's Inspiring Journey Begins ?? #AthleticAchievement #LuciusInspires"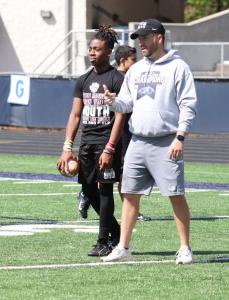 In pursuit of excellence, Lucius Robinson III engages in rigorous off-season quarterback (QB) training alongside his dedicated coach, Doug Saylor. Together, they fine-tune skills and strategies, forging a path towards victory. ??‍? #LuciusTraining #QBExce
In the spotlight, Lucius Robinson III shines as a promising young athlete with a bright future ahead. His dedication and passion for sports set him on an inspiring journey to greatness. ?? #LuciusRising
Douglasville, GA – Lucius Robinson III: 8th-grade athlete, aspiring champion, and inspiring role model. Follow his journey to success!
DOUGLASVILLE, GA, UNITED STATES, September 15, 2023/EINPresswire.com/ — Lucius Robinson III, an 8th grader at Chapel Hill Middle School in Douglasville, Georgia, is setting his sights on a remarkable sporting journey, with the goal of clinching regional championships.
Versatile Athlete Takes Center Stage
Lucius Robinson III is more than just a student; he's a driven athlete with a fervor for football and track. His dedication to these sports has garnered attention, and he's ready to take his skills to the next level.
The Quest for Regional Championships
Lucius's ambition is clear – he's determined to secure regional championships with his school. With the unwavering support of his teammates and his relentless work ethic, he's poised to chase this dream.
Balancing Sports and Academics
Recognizing the importance of balancing academics with athletics, Lucius is a shining example for his peers. He's committed to excelling both on and off the field, emphasizing the importance of a well-rounded education.
The Path to Excellence
Lucius began his football journey at the age of six, driven by a dream to reach the NFL. He understands the steps required to achieve this goal, with selecting the right college being a crucial milestone. His dedication and reputation as one of the hardest-working players and recruits set him apart.
An Aspiring Role Model
Beyond personal success, Lucius aspires to be a role model for his peers and a source of pride for his parents. His journey is one of determination, inspiration, and achievement.
Join the Journey
Stay updated on Lucius Robinson III's pursuit of regional championships and his sporting endeavors by following him on social media:
– Twitter: [@ynluhlu3](https://twitter.com/ynluhlu)

– Instagram: [@luciusrobinson111](https://www.instagram.com/luciusrobinson111/)
Lucius Robinson III is an emerging athlete who epitomizes dedication, talent, and the spirit of a true competitor. Follow his journey as he works towards achieving regional championships in sports.
For media inquiries or interview requests, please contact Lucius Robinson III at [email protected]
Malik Berry
Robust Enterprise
email us here


Originally published at https://www.einpresswire.com/article/655720324/lucius-robinson-iii-aiming-for-regional-championships-in-sports