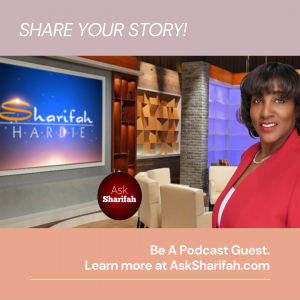 Since the launch of "Ask Sharifah Radio" in 2009, Sharifah Hardie has interviewed some of the most incredible individuals, and shared the most amazing stories.
I love to learn the "why" and the "how" behind any business. Businesses aren't just about the product or services. There's a story behind the busy and I can't wait to discover it!"
— Sharifah Hardie
LONG BEACH, CA, UNITED STATES, August 1, 2023/EINPresswire.com/ — Sharifah Hardie, known as "Ask Sharifah" is a popular business podcast host that interviews top celebrities, entertainers, business owners and entrepreneurs. The show focuses on a specific guest each show, and Sharifah asks the questions viewers always wanted to know in order to succeed in business.
Sharifah's guests have included some of the biggest names in the business world, such as guests from BoostMobile, Cox Media, local government officials and more. The show has also featured celebrities such as Brian Hooks, Darryl Mooney and Dorian Gregory.
The "Ask Sharifah" podcast has become one of the most popular business podcasts. Sharifah's unique ability to connect with her guests and ask the questions that viewers want to know has made the "Ask Sharifah" podcast a must-listen for anyone interested in business.
Sharifah Hardie is excited to announce that she is now booking guests for the show. Sharifah is known for her ability to connect with her guests and create content that people are excited to consume. The added benefit of doing an interview on the Ask Sharifah platform is the incredible exposure guests receive. This exposure quickly leads to new customers and followers.
Sharifah is passionate about using her platform to showcase those with a story to tell. She is excited to provide her guests with an opportunity to share their story with the world. If you are interested in being a guest on the Ask Sharifah Podcast, please visit our website at https://www.AskSharifah.com to submit your information. We look forward to hearing from you!
#############################
Previous podcasts are viewable at: https://podcasters.spotify.com/pod/show/sharifah-hardie
Sharifah Hardie
Ask Sharifah
+1 562-822-0965
[email protected]
Visit us on social media:
Facebook
Instagram
YouTube


Originally published at https://www.einpresswire.com/article/647670500/long-beach-ca-senate-district-33-candidate-entrepreneur-sharifah-hardie-relaunches-podcast-to-support-businesses