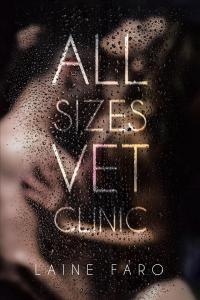 Experience the Power of Love and Healing in "All Sizes Vet Clinic" by Laine Faro
AURORA, COLORADO, UNITED STATES, October 16, 2023 /EINPresswire.com/ — In the highly anticipated sequel to her Corsco Family Series, celebrated author Laine Faro, delivers a tale of resilience, redemption, and the transformative power of love in "All Sizes Vet Clinic: Corsco Family Series Book 2."
Inside The Story

Nick, the story's central character, bears the physical and emotional scars of a painful past. His journey has left him externally and internally marked by his trials. However, the narrative takes a thrilling turn when Anna, the female lead, enters Nick's life, setting in motion an extraordinary transformation.

Anna is a beacon of light breaking through the darkness that shrouds Nick's world. Her passionate and vibrant personality ignites a fire within him, erasing the shadows of his past. Her presence lifts his burdens and heals his wounds with every touch.
As Nick and Anna embark on an intimate journey together, they grapple with the weight of Nick's past. Faro skillfully navigates the potential of vulnerability and acceptance in the most profound way.
Anna and Nick overcome the haunting ghosts of their pasts and forge a new path forward. Nick extends hope to Anna by offering her a job and a new home while she strives to balance love and independence.
Discover the poignant tale of Nick and Anna as they confront their challenges and embark on a heartfelt journey toward hope and healing in "All Sizes Vet Clinic: Corsco Family Series Book 2."
About the Author

Laine Faro was born in Delaware and married into the military at a young age. She holds her traditions and Italian heritage close to her heart. Her writing is a reflection of her life experiences, and "All Sizes Vet Clinic" marks another compelling chapter in the Corsco Family Series.
"All Sizes Vet Clinic: Corsco Family Series Book 2" by Laine Faro is available now and can be purchased through Amazon, Barnes & Noble, and other leading booksellers.
Stay connected with Laine Faro on Facebook and Twitter for updates on her literary endeavors and future releases or visit her official website.
Elaine Alfaro
Company Name: LF Romance
[email protected]
Visit us on social media:
Facebook
Instagram


Originally published at https://www.einpresswire.com/article/662215506/laine-faro-announces-the-release-of-her-second-book-in-the-corsco-family-series