SAN FRANCISCO , Nov. 05, 2023 (GLOBE NEWSWIRE) — Hagens Berman urges Integra LifeSciences Holdings Corp. (NASDAQ: IART) investors who suffered substantial losses to submit your losses now.
Class Period: Mar. 11, 2019 – May 22, 2023
Lead Plaintiff Deadline: Nov. 13, 2023
Visit: www.hbsslaw.com/investor-fraud/IART
Contact An Attorney Now: [email protected] / 844-916-0895
Integra LifeSciences Holdings Corp. (IART) Securities Fraud Class Action:
The litigation focuses on Integra's disclosures related to the FDA's findings of Good Manufacturing Practices violations at its Boston Facility.
The complaint alleges that Integra made false and misleading statements and failed to disclose that: (1) Integra failed to take sufficient measures to remediate violations identified by the FDA; (2) as a result of those deficiencies, all products manufactured in the Boston Facility since March 2018 had the potential for higher-than-permitted levels of bacterial endotoxins and would need to be recalled; and (3) the company was not making progress toward obtaining its pre-market approval ("PMA") indication for SurgiMend (one of Integra's principal wound care products), in part because the manufacturing site that would produce the PMA product (the Boston Facility) was in continued violation FDA standards and the facility would need to be shut down.
The truth came to light beginning on Apr. 26, 2023, when Integra revealed that it paused production at the Boston Facility. Then, on May 23, 2023, Integra announced that, after an internal investigation, it initiated a global recall of all products manufactured in its Boston, Mass. facility distributed between Mar. 1, 2018 and May 22, 2023 and halted manufacturing at the facility. The company explained that it "identified deviations with endotoxin testing that may have resulted in the release of products with higher levels of endotoxins than permitted by the product specifications."   Integra further revealed that it expects to incur a material impairment charge related to the write-off of inventories. As a result of these moves, Integra significantly lowered its revenue and EPS guidance.
These events drove the price of Integra shares sharply lower.
"We're focused on investors' losses and whether Integra misled investors about its compliance with worldwide Good Manufacturing Practices," said Reed Kathrein, the Hagens Berman partner leading the investigation.
If you invested in Integra and have substantial losses, or have knowledge that may assist the firm's investigation, submit your losses now »
If you'd like more information and answers to frequently asked questions about the Integra case and our investigation, read more »
Whistleblowers: Persons with non-public information regarding Integra should consider their options to help in the investigation or take advantage of the SEC Whistleblower program. Under the new program, whistleblowers who provide original information may receive rewards totaling up to 30 percent of any successful recovery made by the SEC. For more information, call Reed Kathrein at 844-916-0895 or email [email protected].
About Hagens Berman
Hagens Berman is a global plaintiffs' rights complex litigation law firm focusing on corporate accountability through class-action law. The firm is home to a robust securities litigation practice and represents investors as well as whistleblowers, workers, consumers and others in cases achieving real results for those harmed by corporate negligence and fraud. More about the firm and its successes can be found at hbsslaw.com. Follow the firm for updates and news at @ClassActionLaw. 
Attorney advertising.
Past results do not guarantee future outcomes.
Services may be performed by attorneys in any of our offices.
Contact:
Reed Kathrein, 844-916-0895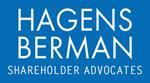 Originally published at https://www.einpresswire.com/article/666488332/iart-8-day-deadline-alert-hagens-berman-national-trial-attorneys-encourages-integra-lifesciences-iart-investors-with-substantial-losses-to