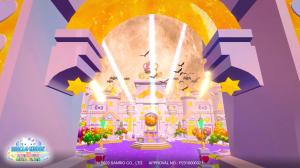 Hello Kitty Seven Wonders launches Halloween special in MetaGaia metaverse
Limited-Time Spooky Halloween Experience Awaits Fans in the Immersive Hello Kitty Digital Destination
The Halloween theme in Hello Kitty Seven Wonders represents the next step in our journey to redefine the possibilities of digital interaction."
— Gordon Kwok, CEO of MetaGaia
HONG KONG, CHINA, October 27, 2023 /EINPresswire.com/ — MetaGaia, in partnership with Sanrio Hong Kong, today announced the limited-time Halloween Special for the Hello Kitty Seven Wonders digital destination in the MetaGaia metaverse. The Halloween Special brings a festive touch to Hello Kitty Seven Wonders, introducing spooky seasonal decor and limited time activities that will enchant fans and offer a festive experience in the metaverse.
Download MetaGaia to explore Hello Kitty Seven Wonders.
Building on the recent integration of ChatGPT, the Halloween theme enables fans to engage in conversations with a Halloween version of Ruler Hello Kitty in the newly decorated Unicorn Castle, now fitted with jack-o-lanterns, cobwebs and candy decor. The new theme adorns Hello Kitty Seven Wonders with a sense of seasonal mystique, melding Hello Kitty's endearing charm with the chilling allure of Halloween festivities. Special missions will enable users to earn Halloween-themed rewards like a Hello Kitty Spooky Ghost Mask.
"The Halloween theme in Hello Kitty Seven Wonders represents the next step in our journey to redefine the possibilities of digital interaction," said Gordon Kwok, CEO of MetaGaia. "Our goal is to continuously create dynamic experiences for our users. The Halloween theme offers a refreshing and engaging context for fans to interact with Hello Kitty and explore the metaverse in a wholly new light."
Hello Kitty Seven Wonders continues to be a pioneering digital destination within the MetaGaia metaverse, offering an array of interactive features such as real-time chats, activities, minigames and augmented reality experiences. With the introduction of the Halloween theme, MetaGaia and Sanrio Hong Kong affirm their commitment to fostering innovation and providing captivating experiences for fans.
About Sanrio Hong Kong

Sanrio Hong Kong is one of the subsidiaries of Sanrio Japan. Sanrio is the global lifestyle brand best known for pop icon Hello Kitty, and home to many other beloved character brands. Since 1960. Inspired by the vision of "One World, Connecting Smiles", Sanrio aims to shorten the distance between people and spread the circle of happiness even further. Sanrio's breadth of products are available in over 130 countries and in retail locations including department, specialty, national chain retailers and Sanrio boutique stores.
About Advokate Group

Founded by MIT alumni, the Advokate leadership team brings business acumen from Blackstone, BlackRock, Sony-Ericsson and Wells Fargo. Advokate Group has overseen the release of multiple successful blockchain applications, and its flagship MetaGaia is the first metaverse to enable consumers to explore the metaverse with AI-powered companions, AR games, socialize, shop brands and buy virtual real estate. Game developers from Final Fantasy, Zynga, Walt Disney and Ismole ensure the best gaming experience.
For more information on MetaGaia and the partnership with Sanrio Hong Kong, please visit the MetaGaia website, Twitter, Instagram and Facebook.
All trademarks and product names are the property of their respective companies.

© 2023 SANRIO CO., LTD. Approval No.: P2310000365

David Haefele
FortyThree
[email protected]
Visit us on social media:
Facebook
Twitter
Instagram
Hello Kitty Seven Wonders launches Halloween Special


Originally published at https://www.einpresswire.com/article/664407022/hello-kitty-seven-wonders-launches-halloween-special-in-metagaia-metaverse