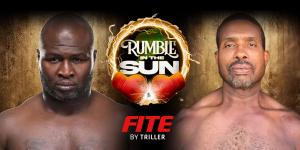 In November, for the first time, Donovan "Razor" Ruddock and James "Lights Out" Toney square off in an epic boxing match.
KINGSTON, JAMAICA, August 28, 2023/EINPresswire.com/ — Legendary Jamaican-Canadian boxing Heavyweight Champion Donovan "Razor" Ruddock returns to his birthplace of Jamaica for an inaugural match against the International Boxing Hall of Fame Inductee and Champion James "Lights Out" Toney at the mega "Rumble In The Sun" event on Saturday, November 11, 2023, inside Kingston's iconic Sabina Park. This historic match-up marks Ruddock's first time competing in a boxing match in Jamaica. Rumble In The Sun is a revolutionary match and a catalytic mechanism for philanthropic partnerships with the Red Ground District primary school and Gloves Over Guns initiative and for establishing Jamaica as an international boxing destination.
"Jamaica is the birthplace and heritage of some of the most dynamic and talented boxers," says Ruddock. "I am excited to participate in a groundbreaking boxing match that will change the world's perception of this beautiful country."
Noted as one of the 100 greatest punchers of all time due to his signature "smash," an impression and hybrid left-hand punch, Ruddock was born in St. Catherine's parish and immigrated to Toronto, Canada, with family in his youth. While there, he fine-tuned his burgeoning boxing skills and, in March 1980, defeated Lennox Lewis as a teenage amateur boxer at the Ontario Junior Boxing Championship. Since becoming a professional boxer in 1982, he has garnered knockout wins against former WBA heavyweight champions Michael Dokes and James "Bonecrusher" Smith and held the WBA inter-continental heavyweight title. In 1991, Ruddock battled against "Iron" Mike Tyson in two matches, one of which he fought nine rounds despite sustaining a broken jaw in round three.
His opponent James Toney has held "world champions in three weight classes" and was voted Fighter of the Year by the Boxing Writers Association of America in 1991 and 2003. As a youth, Toney was inspired to become a boxing champion after watching fellow International Boxing Hall of Fame Inductee Tommy "The Hitman" Hearns box at the August 1980 WBA Welterweight Championship. Since becoming a professional boxer at age 20 and winning his first fight against Stephen Lee in October 1988, Toney has competed in 92 fights, including 77 wins and 47 knockouts. Toney returns to the ring after a six-year hiatus following his 2017 unanimous vote and win against Mike Sheppard.
"Years from now, people will still be talking about one of the greatest boxing matches of all time between me and Razor," says James Toney. "My career is filled with history-making moments in boxing, and Rumble In The Sun is no exception."
Rumble In The Sun is proudly endorsed by the Jamaican Boxing Board and partners with the Gloves Over Gun initiative. "There are youth today using boxing as a platform for personal development, social support and community cohesion," says Stephen "Bomber" Jones, Jamaica Boxing Board president. "Having them witness such an event will further cement in their minds boxing as a vehicle for the way forward."
Premier global sports and entertainment digital platform FITE by Triller will broadcast the event live on pay-per-view via cable and satellite networks. For the latest information, visit the event website at www.rumbleinthesun.com.
About Donovan "Razor" Ruddock

Donovan "Razor" Ruddock has undoubtedly established his legacy as one of his era's most formidable and relentless heavyweights. The hard-punching Canadian top contender is most known for fearlessly challenging former undisputed Heavyweight Champion Mike Tyson twice in 1991 and his terrifying

knockouts of former WBA Heavyweight Champions Michael Dokes in 1990 and James "Bonecrusher" Smith in 1989. Through two decades of boxing, Ruddock achieved an honorable career of 47 professional fights with 40 wins, six losses and one draw.
About James "Lights Out" Toney

James "Lights Out" Toney is an American former professional boxer noted for his outstanding defense and smooth counter-punching from 1988 to 2017. He held world championships in three weight classes, including the IBF and lineal middleweight titles from 1991 to 1993, the IBF super middleweight title from 1993 to 1994, and the IBF cruiserweight title in 2003. Toney is also revered for brazenly battling some of the sport's giants, such as Roy Jones Jr., Evander Holyfield and Mike McCallum. He has rightfully earned a tribute to be inducted into the International Hall of Fame.
About TRILLER:

Triller is the AI-powered open garden technology platform for creators. Pairing music culture with sports, fashion, entertainment, and influencers through a 360-degree view of content and technology.
About FITE:

FITE is the premium global platform for live sports and entertainment, offering many of the industry's marquee PPV events to more than 7M registered users. Consumers can stream FITE globally through its iOS and Android mobile apps, Apple TV, Android TV, ROKU, Amazon Fire TV and Huawei apps. Available online at www.FITE.tv. FITE is owned by TrillerVerz Corp.
Nicole Brown
Rumble in the Sun
+1 941-281-0520
[email protected]
Visit us on social media:
Facebook
Twitter
Instagram
YouTube
Nov. 11, 2023 – Donovan "Razor" Ruddock vs James "Lights Out" Toney


Originally published at https://www.einpresswire.com/article/652275420/heavyweight-boxing-champion-donovan-razor-ruddock-sets-sights-on-jamaica-for-inaugural-rumble-in-the-sun-match