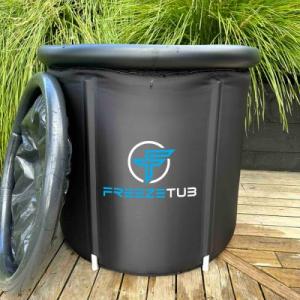 Freeze Tub is a leading global retailer of world-class Ice Baths and their tubs are no longer found in high-performance sports facilities or specialist clinics
AUCKLAND, AUCKLAND, NEW ZEALAND, August 2, 2023/EINPresswire.com/ — Freeze Tub Introduces Game-Changing Ice Bath to Global Market
Leading the charge in cutting-edge wellness solutions, Freeze Tub is thrilled to announce the launch of its latest product, the upgraded Ice Bath Solo. This state-of-the-art addition to their product line is set to improve the recovery and performance enhancement industry.
The previous model, a 75cm wide x 75cm high ice bath with 3 layers of PVC, has been a reliable staple in the market, catering to the needs of athletes and health-conscious individuals alike.
The new Freeze Tub Solo Ice Bath boasts an impressive array of features that sets it apart as a truly superior product. Its remarkable 80cm width and 80cm height provide more stability and space, allowing people up to 6"7" to comfortably use their product. In addition, the innovation doesn't stop there – the latest Solo model comes standard with 5 thermostatic layers with the outer PVC layer using rip-stop technology and UV protection. This cutting-edge technology ensures the temperature of the ice bath stays cooler for longer and has become more durable providing users with the ultimate customizable cold therapy experience.
"Listening to our customers' feedback and staying ahead of industry trends is at the core of our company's values," says Dale Folland. Company Director. "We are proud to unveil this upgraded Ice Bath Solo, designed to exceed expectations and deliver unparalleled benefits for athletes, fitness enthusiasts, and anyone seeking optimal recovery and performance enhancement."
The new Ice Bath's unique design and advanced features make it a game-changer in the market, setting a new standard for cold therapy solutions. Whether used for post-workout recovery, injury rehabilitation, or overall well-being, this product promises to make a significant impact on users' lives.
The new Ice Bath is now available for purchase on the company's website Freeze Tub Ice Baths and Customers can look forward to experiencing the pinnacle of performance recovery with this remarkable product.
Dale Folland
Freeze Tub
[email protected]
Visit us on social media:
Facebook
Instagram
YouTube
Ice Baths


Originally published at https://www.einpresswire.com/article/647709843/freeze-tub-introduces-game-changing-ice-bath