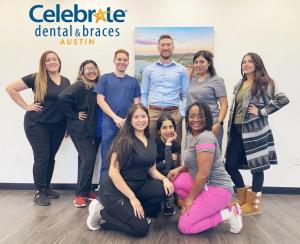 Celebrate Dental & Braces In Action
Dr. Ensley & Dr. Gharbi
Elevate Your Smile, Elevate Your Life: Celebrate Dental & Braces Sets the Standard in Austin, Texas
At Celebrate Dental & Braces, we're dedicated to more than just procedures. We're transforming lives and futures through smiles. We bring renewed confidence to our patients' lives."
— Dr. David Ensley
AUSTIN, TEXAS, USA, August 22, 2023/EINPresswire.com/ — Celebrate Dental & Braces, a distinguished dental and orthodontic practice owned by Dr. David Ensley and Dr. Nazgol Gharbi, is making waves as the premier destination for top-rated dental and orthodontic care in Austin, Texas. With a legacy rooted in quality and compassion, their unwavering commitment to transforming smiles and lives has established them as community leaders.
Nestled within Austin's vibrant community, Celebrate Dental & Braces stands as a haven for superior dental and orthodontic care. Dr. David Ensley, a Board Certified Orthodontist, and Dr. Nazgol Gharbi, a Doctor of Dental Surgery (DDS), spearhead a practice dedicated to excellence. Their expansive range of services includes Cosmetic Dentistry, Dental Implants, Emergency Dental Work, General Dentistry, Pediatric Dentistry, Orthodontic work, Dental Braces, and the revolutionary Invisalign treatment.
While Celebrate Dental & Braces is renowned for its comprehensive services, their commitment to Invisalign treatment speaks volumes. Dr. David Ensley shares, "The transformation that Invisalign brings to our patients' lives is beyond measure. Witnessing the boost in their self-confidence as their smiles evolve is incredibly rewarding. It's more than just teeth; it's about fostering self-assuredness." Recent peer-reviewed studies have shown that early orthodontic intervention, including Invisalign treatment, not only enhances physical appearance but also plays a pivotal role in improving overall mental well-being in children and teenagers. This aligns seamlessly with Celebrate Dental & Braces' mission to nurture self-assured smiles that radiate from the inside out.
Dr. Nazgol Gharbi adds, "Every patient's journey is unique, and we're here to guide them towards a brighter, healthier smile. The smiles we create not only transform appearances but also instill a newfound sense of self-esteem. Our work isn't just about dental care; it's about enhancing lives."

Celebrate Dental & Braces understands the critical role that routine dental work plays in young people's lives. Dr. Gharbi explains, "Early dental care is an investment in a lifetime of oral health. By addressing dental issues promptly, we can prevent them from escalating into more significant problems later in life." Peer-reviewed studies highlight the long-term benefits of proactive dental care in youth, including a reduced risk of gum disease, cavities, and other oral health concerns. Dr. Ensley emphasizes, "Instilling good oral hygiene habits at a young age sets the foundation for a lifetime of healthy smiles. Routine dental visits not only prevent potential issues but also educate young patients about the importance of self-care."
Beyond providing dental and orthodontic services, Celebrate Dental & Braces redefines the patient experience. The practice prides itself on a holistic approach that considers patient comfort, transparent communication, and personalized treatment plans. From nurturing pediatric dental care to offering teenagers compassionate support through braces and Invisalign, and catering to adults' diverse needs, Celebrate Dental & Braces delivers an unparalleled patient journey grounded in empathy, expertise, and care.
As a trailblazer in dental and orthodontic care, Celebrate Dental & Braces invites the Austin community to embark on a journey of confidence, self-assurance, and radiant smiles. Backed by years of expertise, a legacy of excellence, and a steadfast dedication to individual needs, Celebrate Dental & Braces is poised to elevate both oral health and overall well-being. Dr. Ensley added, "Seeing the positive impact of a beautiful smile on our patients' lives is incredibly gratifying. Each smile we enhance contributes to their self-assurance, and it's an honor to play a role in their journey to greater confidence."
For more information and to schedule an appointment, visit www.celebratedental.com or call their office at (512) 521-7000.
Dr. David Ensley
Celebrate Dental & Braces
+1 512-521-7000
email us here
Visit us on social media:
Facebook
Instagram
TikTok


Originally published at https://www.einpresswire.com/article/651320160/empowering-smiles-transforming-lives-celebrate-dental-braces-champions-confidence-through-dental-excellence