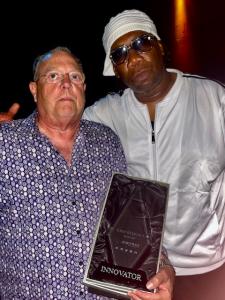 NEW YORK, NY, US, August 16, 2023/EINPresswire.com/ — DigiTraxAI, an innovative pioneer in the world of music technology, was honored with the esteemed Technology Advancement Award for its "KR38R Platform" (pronounced Creator) at the recent celebration organized by the Epic HBCU Collective. The award ceremony was held at the prestigious Classic Car Club Manhattan.
The honor was accepted by DigiTraxAI CEO, Joe Vangieri, who has an illustrious history in the Hip-Hop community, notably for introducing "PCDJ", the first digital DJ software in the late 90s. Today, Vangieri and his team at DigiTraxAI continue to be at the forefront of revolutionizing the music industry. Employing state-of-the-art AI algorithms and a rich palette of AI-driven tools and apps, DigiTraxAI is shaping growth opportunities for artists and labels within Hip-Hop.
The award not only celebrates technological advancements but also the deep connection of technology and culture. The Epic HBCU Collective, helped orchestrate the unforgettable Hip Hop 50 Years Block Festival on August 12th, 2023, celebrating Hip-Hop's rich legacy. The monumental event, led by legendary Hip-Hop artist KRS-ONE and in partnership with New York City, The Borough of the Bronx, the Temple of Hip Hop, 24 HRS of Peace, and 94.7, truly captured the spirit and essence of Hip-Hop.
Attendees experienced a unique deep dive into the heart and soul of Hip-Hop. With interactive activities emphasizing the vibrant tapestry of Hip-Hop culture, the festival echoed the legacy of a genre that has stood the test of time. Bringing together luminaries from all five decades of Hip-Hop's history, it was a heartfelt tribute to the community and fans that have supported this cultural behemoth for over half a century.
DigiTraxAI's recognition is a testament to the intersection of technology and culture, emphasizing how the right tools and vision can enrich an entire industry.
About DigiTraxAI

DigiTraxAI (https://digitrax.ai/) is a music technology company that uses artificial intelligence to develop new ways of creating and experiencing music. The company has developed proprietary AI algorithms and tools that aim to transform how the music industry functions. One of their key innovations is the KR38R platform, which leverages AI to help artists and labels unlock additional value from existing content. It also allows for the development of novel AI-generated music products and experiences. DigiTraxAI aims to push the boundaries of how artificial intelligence can shape the future of music creation and consumption.
About Epic HBCU Collective

Epic HBCU Collective, LLC (https://www.epichbcucollective.com/) is a Cooperative founded on December 8, 2022, by Wesley Powell and Dexter Porter. The company has offices in Washington, DC, and Atlanta, Georgia. Epic HBCU Collective combines educators, creators, innovators, business moguls and neighborhood advocates; to focus on maximizing and evolving the experience that Historical Black Colleges and Universities provide.
Jordan Lee
The PR Group
+1 727-447-4992
email us here
Originally published at https://www.einpresswire.com/article/650072161/digitraxai-recognized-for-pioneering-ai-driven-music-creation-at-hip-hop-s-50th-anniversary-event