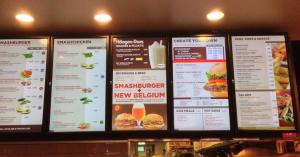 Embracing the tech wave, restaurants have adopted digital menu boards, primarily to enhance customer experience and stay ahead in the competitive era.
MUMBAI, MAHARASHTRA, INDIA, August 7, 2023/EINPresswire.com/ — In the dynamic landscape of the restaurant industry, digitalisation has emerged as a powerful force, reshaping how eateries engage with patrons. Embracing the tech wave, restaurants have adopted digital menu boards, primarily to enhance customer experience, streamline operations, and stay ahead in the competitive era.
The peak of digitalisation:
The peak of digitalisation marks a significant milestone as technology integration reaches its zenith, encompassing diverse industries, particularly the restaurant sector. Present-day consumers are increasingly tech-savvy, demanding a seamless and interactive dining experience. To cater to these evolving preferences and stay ahead in the competitive landscape, restaurants have leapt forward with a proactive approach integrating the latest digital solutions.
The role of digital solutions in modern-day restaurants:
Among the forefront innovations are digital menus, a transformative departure from traditional paper menus. These dynamic electronic menus allow restaurants to present their offerings in an engaging and visually appealing manner. Gone are the days of static, hard-to-update menus; digital menus empower establishments to make real-time changes, enabling them to showcase seasonal dishes and limited-time promotions and respond swiftly to inventory fluctuations. This flexibility ensures that customers are greeted with the latest offerings every time they visit, fostering loyalty and repeat patronage.
A game-changing aspect of this digital revolution, these digital signage solutions help leverage high-definition display options to captivate customers' attention with vibrant images and animated content. Restaurants can craft immersive visual experiences, tantalising dinners with enticing visuals showcasing culinary delights. The seamless integration of these menu boards' POS systems streamlines the ordering process, minimising wait times and enhancing overall operational efficiency.
Digital restaurant menus have ushered in a new era of customer interaction. These digital menus allow diners to access comprehensive dish information, including detailed descriptions, ingredient lists, and allergen information. Customers can also access user-generated reviews, providing valuable insights and aiding decision-making. The result is an informed and empowered dining experience where patrons can tailor the selections to suit personal preferences and dietary requirements.
Adopting these digital signage solutions is not merely a trend but has become necessary for the modern restaurant business. Restaurants that move ahead with this tech-driven transformation are positioned to create memorable experiences, attract a broader customer base and gain a competitive edge. As the peak of digitalisation unfolds, the fusion of technology and culinary artistry is set to redefine the restaurant industry, shaping the future of dining experiences for years to come.
Adopting digital menus boards and signage solutions, the ultimate need of the hour
Enhanced customer engagement: Interactive digital menu for restaurants enables customers to engage with restaurant offerings directly, leading to a more personalised and satisfying dining experience.
Improved efficiency: Digital menus facilitate quick updates, eliminating the need for reprinting paper menus whenever menu changes occur, thus saving time and resources.
Contactless ordering: In a post-pandemic world, contactless solutions have become paramount. The digital restaurant menu and the QR code enable touchless menu access and order, prioritising safety and hygiene.
Analytics and insights: Digital signage solutions provide valuable data on customer preferences, ordering patterns, and peak hours, empowering restaurants to make data-driven decisions for improved operational efficiency.
Cost-effectiveness: Over time, investing in digital menu boards proves cost-effective, as it reduces printing expenses and enhances revenue generation through targeted marketing.
Brand image and differentiation: Adopting digital menu boards showcases a restaurant's tech-forward approach, enhancing its brand image and setting it apart from competitors.
Technology has become an integral part of the restaurant industry, and embracing the tech wave is imperative for establishments seeking to thrive in the competitive market. With numerous benefits of digital restaurant menu boards and other signage solutions, restaurant businesses certainly help improve customer engagement and efficiency through contactless ordering and data-driven insights. Restaurants that equip themselves with these digital tools gain a competitive edge, ensuring a promising and prosperous future amidst the ever-evolving tech landscape. Incorporating these innovative solutions, restaurants elevate their brand and deliver exceptional dining experiences, solidifying their position in the hearts of tech-savvy patrons. This transformative power of digitalisation is undoubtedly shaping the future of dining, and restaurants adapting to the changing landscape are certainly on their way to securing a competitive edge in the food service industry.
About Bitsy Displays:
Bitsy Displays is a leading provider of digital signage solutions, specialising in cutting-edge technology designed to transform the restaurant industry. The digital signage solutions by Bitsy
Displays are at the forefront of innovation, offering high-definition displays and user-friendly software allowing for real-time menu updates. With a keen focus on aesthetics and functionality, Bitsy Displays creates visually captivating menus that seamlessly integrate into the restaurant's ambience and enhance the overall dining experience for customers. As technology continues to shape the future of dining, Bitsy Displays aims to partner with restaurants and improve the dining experience.
Mr. Satish Villait
Bitsy Display
+91 9930373760
[email protected]
Visit us on social media:
Facebook
Twitter


Originally published at https://www.einpresswire.com/article/648611596/embracing-the-tech-wave-digital-menu-boards-redefining-restaurant-experiences