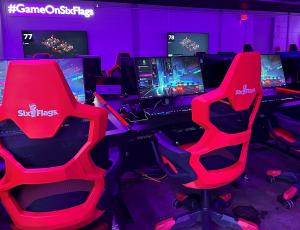 SAN ANTONIO, TX, UNITED STATES, July 25, 2023/EINPresswire.com/ — This summer Coca-Cola and Six Flags have partnered up to host one of the biggest gaming events ever held, a Summer Showdown gaming festival and tournament. The star-studded event will be led by renowned celebrity gamers, including Bugha, Sommerset, Zemie, and more.
The two-day tournament launches after a widely successful run of Six Flags Summer Gaming Houses. All season long Six Flags parks across the country have been transformed into havens for gaming enthusiasts with the introduction of Gaming Houses. These immersive experiences allow visitors to delve into the worlds of their favorite games like Fortnite, FIFA '23, and League of Legends, surrounded by cutting-edge equipment, futuristic designs, and a vibrant community of passionate players of all ages. Tickets to popular attractions can be purchased through the Six Flags app or won online at sixflags.com/gameon.
The action-packed tournament will commence on Labor Day weekend at Six Flags Fiesta in San Antonio, Texas at their world-class ESIX Arena which features stunning Razer gaming stations, and mesmerizing multicolored lighting, providing the perfect stage for the epic esports tournament. The fun starts on Saturday, September 2 at 12pm, as the creator talents take on a series of thrilling challenges in the Fortnite Park Challenge. Then on Sunday at midday, the adrenaline will surge as the four creators face off against 50 fans in a creator rumble, vying for the ultimate $30,000 prize and the prestigious trophy belt. Following both games, the park will host a creator meet-and-greet with fans, as well as competitions for guests to enter and claim their own prizes.
Six Flags Vice President Stephanie Borges shared, "We are thrilled to host the culmination of our summer esports activation at our state-of-the-art premier esports arena, eSix. This exciting weekend of competition offers an unparalleled opportunity for our guests both in-park and across the globe."
The esteemed lineup of celebrity gamers includes Kyle "Bugha" Giersdorf, a professional Fortnite player and one of the most recognizable names in the esports industry, up-and-coming superstar gamer Sommerset, as well as famous Youtube star Zemie, to name a few.
"We're so excited to have the biggest content creators and esports gamers coming together to celebrate our summer Gaming Rooms," said Rachel Chahal, Director of Amusement and Eatertainment Partnerships at The Coca-Cola Company. "We're honored to host such exceptional celebrity gamers and bring this epic tournament to life, creating unforgettable memories for gaming enthusiasts worldwide."
Fans can also join in the fun at the Official Gaming Studio at Six Flags Fiesta Texas in San Antonio, watch live from any of Six Flags Gaming Houses across the country, or live stream internationally with IGN. Audiences can secure their tickets to this exhilarating tournament through the Six Flags app or online. For those looking to join in the fun, tickets can be won online at sixflags.com/gameon. The grand prize awards one winner and nine friends with an all-expenses paid trip to attend the ESIX Summer Showdown at Six Flags Fiesta, while a lucky runner-up will win the ultimate gaming room makeover with a $5,000 Best Buy gift card.
To learn more, visit: sixflags.com/gameon
#######
About The Coca-Cola Company:

The Coca‑Cola Company (NYSE: KO) is a total beverage company with products sold in more than 200 countries and territories. Our company's purpose is to refresh the world and make a difference. We sell multiple billion-dollar brands across several beverage categories worldwide. Our portfolio of sparkling soft drink brands includes Coca‑Cola, Sprite, and Fanta. Our hydration, sports, coffee, and tea brands include Dasani, Smartwater, Vitaminwater, Topo Chico, BODYARMOR, Powerade, Costa, Georgia, Gold Peak, and Ayataka. Our nutrition, juice, dairy, and plant-based beverage brands include Minute Maid, Simply, innocent, Del Valle, fairlife, and AdeS. We're constantly transforming our portfolio, from reducing sugar in our drinks to bringing innovative new products to market. We seek to positively impact people's lives, communities, and the planet through water replenishment, packaging recycling, sustainable sourcing practices, and carbon emissions reductions across our value chain. Together with our bottling partners, we employ more than 700,000 people, helping bring economic opportunity to local communities worldwide. Learn more at www.coca-colacompany.com and follow us on Twitter, Instagram, Facebook, and LinkedIn.
About Six Flags Entertainment Corporation:

Six Flags Entertainment Corporation is the world's largest regional theme park company and the largest operator of water parks in North America, with 27 parks across the United States, Mexico, and Canada. For 62 years, Six Flags has entertained millions of families with world-class coasters, themed rides, thrilling water parks, and unique attractions. Six Flags is committed to creating an inclusive environment that fully embraces the diversity of our team members and guests. For more information, visit www.sixflags.com.

Rob Bolton
ent! marketing
[email protected]
Visit us on social media:
Facebook
Twitter
Instagram


Originally published at https://www.einpresswire.com/article/646321058/coca-cola-and-six-flags-host-celebrity-summer-gaming-showdown