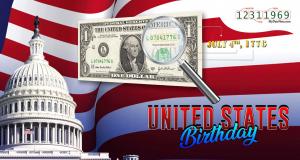 Join this 4th of July to explore the world of date notes and discover their significance. Register for the Labor Day Auction of over 15,000 unique Treasures
HADDONFIELD, NEW JERSEY, NJ, UNITED STATES, July 3, 2023/EINPresswire.com/ — Unveiling the Rarity of Date Notes: Celebrate Independence Day with MyDateNote.com
MyDateNote.com is excited to announce an upcoming auction event on Labor Day, September 4th, 2023. Over 15,000 date notes will be showcased, allowing anyone to explore their rarity and significance while celebrating Independence Day on July 4th.
Discover the Rarity: What Are Date Notes and How Rare Are They?

Date notes are currency pieces with an 8-digit serial number representing a specific date (MMDDYYYY format). These notes are extremely rare, with odds of finding a specific serial number estimated at 1 in 100 million. Collectors spend a lifetime searching for these treasures without guarantee of finding their desired date.
Join the Labor Day Auction: A Spectacular Showcase of Date Notes.

MyDateNote.com specializes in curating unique date notes, perfect as currency gifts for special occasions. Their Labor Day auction will feature a personal collection of over 15,000 date notes, along with contributions from fellow collectors. Register on their website to stay informed about this event and get notified when desired dates become available for auction.
Celebrate the 4th of July with them: Sharing a Special Note

On this special occasion, they want to share a prized possession from Mr. Markakis's collection—a remarkable 4th of July note. Although this note won't be auctioned, they invite you to celebrate Independence Day with them and wish a joyful 4th of July to everyone.
Explore Their Extensive Collection: Match a Note to a Special Day.

Visit their website and explore their extensive collection of over 15,000 date notes. Anybody might find the perfect note to commemorate a significant day in their life or the life of someone special. Date notes make remarkable collectibles for birthdays, anniversaries, graduations, and other cherished events.
Date Notes Make Unforgettable Gifts: Cherish Memories for a Lifetime

A beautifully framed date note with a serial number representing a birthday, anniversary, or special date makes a unique and memorable gift. Date notes, whether displayed in an elegant frame or given as is, carry a personal touch that will be cherished for years to come.
Indulge in the Thrill of Collecting: Discover Treasures with Historical Significance

Collecting date notes can be an exciting and rewarding hobby. Finding notes with serial numbers representing significant historical events or special dates adds adventure to the pursuit of these treasures.
Moments Frozen in Time: Connect with History

Date notes with serial numbers corresponding to major historical events connect them to history books and other memorabilia. Owning a date note with a historical connection provides a tangible link to the past, allowing anyone to become part of the stories that shaped the world.
Introducing George Markakis: A Passionate Collector and Curator

George Markakis, the dedicated collector behind MyDateNote.com, has spent over 30 years immersed in the art of collecting date notes. His journey began with a chance discovery during a poker game, igniting a lifelong fascination with these unique treasures. The Labor Day auction will feature his personal collection alongside contributions from friends, offering a diverse range of extraordinary date notes.
Explore Their Exclusive Gallery: Behold Timeless Treasures

Visit their website to explore their exclusive gallery, featuring the most exceptional and exclusive date notes acquired over the years. These notes bear witness to significant dates in history, including major events and sports championships, captivating collectors and history enthusiasts alike.
Join the MyDateNote.com Community: Ignite the Passion

Join their growing community of date note enthusiasts at MyDateNote.com. Get immersed in the world of date notes by visiting their website and liking their Facebook business page. Stay updated on the latest news, events, and highlights from the captivating realm of date notes.
As they eagerly prepare for the highly anticipated Labor Day Auction on September 4th, 2023, they invite everyone to check out their website. Let them assist in finding the perfect date note to add to a collection or gift to someone special. If anyone has any questions or wish to consign their own collection for their upcoming quarterly auctions, please don't hesitate to contact them.
Join them at MyDateNote.com, where rarity meets significance, and where every date carries a story worth cherishing.
George Markakis
MyDateNote.com
email us here
Originally published at https://www.einpresswire.com/article/642795655/unveiling-the-rarity-of-date-notes-celebrate-independence-day-with-mydatenote-com