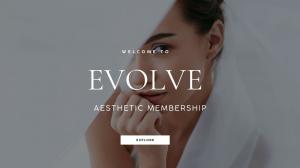 TORONTO, ONTARIO, CANADA, September 25, 2023 /EINPresswire.com/ — Canada MedLaser, a leading name in the Greater Toronto Area's medical aesthetic industry, is thrilled to announce the eagerly awaited EVOLVE Membership Program, poised to revolutionize the Canadian beauty and wellness scene this October.
Elevating Beauty and Giving Back to the Canadian Community

The Canada MedLaser team can barely contain their enthusiasm with the launch of their new membership program, EVOLVE, this October. The company has emphasized that its efforts extend beyond delivering top-notch beauty services and encompass giving back to the Canadian community. As part of this commitment, they have pledged to donate 5% of each membership fee to the Look Good Feel Better charity, a worthy cause they are passionate about supporting.
A Gateway to a New Era of Canadian Beauty

Prepare to be entranced by the world that the EVOLVE Membership Program unveils. Members will enjoy exclusive privileges, including preferential pricing, coveted products, complimentary treatments, and services administered by trusted aesthetic experts. Yet, this program goes beyond personal indulgence; it empowers members to leave a lasting mark on the Canadian community by supporting the Look Good Feel Better charity.
Exclusive Canada MedLaser Benefits

Experience exclusive privileges, including personalized skin analysis, discounts on treatments, and self-care services that boost confidence. Choose a 3 or 6-month commitment and leave feeling revitalized with renewed self-worth.
Affordable Skin Care: EVOLVE Membership Subscription Plan

Luxury is now within reach with membership subscription plans starting at just $139 for Basic, $225 for Deluxe, and $349 for Platinum. These plans come with exclusive freebies, complimentary skin analysis, substantial discounts, and access to exclusive pre-sale promotions and events that will elevate your experience to new heights.
Here's a breakdown of the membership plans:
1. Basic Plan – $139/month: This entry-level plan provides members exclusive benefits, including a 5% discount on Canada MedLaser services, complimentary skin analysis, a monthly facial, and pre-sale access.

2. Deluxe Plan – $225/month: Elevate your beauty journey with the Deluxe Plan, offering a 10% discount on services and skincare products, a 10% account credit, a monthly facial, a free skincare product every quarter, 3 advanced medical facials yearly, and 10 Units of Dysport or Botox every quarter during regular visits.

3. Platinum Plan – $349/month: For those seeking the pinnacle of aesthetic experiences, the Platinum Plan opens doors to unparalleled luxury and beauty.
Ready to Elevate Your Aesthetic Journey?

Visit Canada MedLaser's website at https://canadamedlaser.ca/ for more details and join a community that's redefining beauty and wellness and making a meaningful difference through the Look Good Feel Better charity.
About Canada MedLaser:

Since 2014, Canada MedLaser has consistently held its position as a trailblazer in the medical aesthetic industry. Their fusion of advanced technology with an unwavering passion for beauty has redefined industry standards. Offering a diverse range of services, from laser hair removal to Coolsculpting and PRP Hair Restoration, Canada MedLaser remains grounded in Canadian values while continually pushing the boundaries of aesthetic treatments.
Keren Daich
Canada MedLaser
+1 437-214-9195
email us here
Visit us on social media:
Facebook
Instagram
YouTube


Originally published at https://www.einpresswire.com/article/657647922/canada-medlaser-to-launch-game-changing-evolve-membership-program-in-october