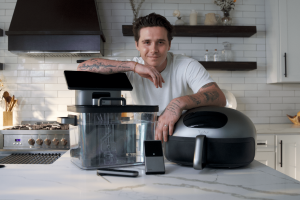 Cookin' with Brooklyn star is gearing up with Typhur to help the everyday cook achieve gourmet results.
SAN JOSE, CA, UNITED STATES, September 25, 2023 /EINPresswire.com/ — Typhur Inc. (https://www.typhur.com/), a trailblazer in design-driven, cutting-edge smart kitchen appliances is announcing an exciting venture with cook and culinary entrepreneur, Brooklyn Beckham.
Typhur Inc., renowned for its commitment to culinary excellence and technological innovation, is set to launch its impressive line of next-level kitchen appliances with the help of Brooklyn Beckham. The goal is to redefine the way we approach home cooking and empower everyday cooks to achieve extraordinary gourmet results, effortlessly.
Allen Fung, Managing Director of Typhur Inc., expresses his enthusiasm for the partnership: "We are extremely happy to have Brooklyn join us because he represents the everyday person that just wants to be a better cook. His story resonates with aspiring home chefs because it shows you don't need to go to culinary school or spend endless hours in the kitchen to produce amazing meals at home. You just need the right tools, tech, and passion to get started."
Brooklyn Beckham, widely known for his love of cooking, has built an impressive resume of culinary ventures this year including co-founding upstart sake brand WeSake and an ambassadorship for Silk NextMilk's plant-based stache campaign Who's Next. Teaming up with Typhur marks a pivotal moment in Brooklyn's journey, allowing him to amplify his vision of sharing his culinary adventures with a global audience and bring innovation into his very own kitchen.
In Brooklyn's words, "In the kitchen, I use my phone at every phase of cooking: from looking for recipes, tips for better technique, and tutorials to grow my skill set and continuously better myself. I am incredibly impressed with how Typhur can combine the wonders of cooking science with technology to make the entire experience easier. Every single product is so different from anything else on the market."
Typhur's cutting edge product line includes:

Typhur Sous Vide Station, an all-in-one sous vide solution with a 12" screen and library of video guided recipes that teaches home cooks how to create restaurant-quality meals in their kitchen.

Typhur Dome Air Fryer, a large air fryer featuring a unique cyclonic circulation system. Inspired by traditional pizza ovens, where geometry improves heating efficiency. The low yet wide profile allows food to be spread out and cooked evenly, achieving a consistent cook up to 30% faster.

Typhur InstaProbe, the world's fastest and most accurate food thermometer. Patent pending DCTi (Direct Contact Thermal Integration) process allows for direct thermal conduction between the sensor and target object at readings of just .75 seconds.

Typhur Sync, a wireless food thermometer with two separate probes. Boasting 5 sensors in each probe, the Typhur Sync pushes the limits in both accuracy and stability.
Stay tuned to https://www.typhur.com/ for the latest updates on this groundbreaking partnership and the forthcoming release of innovative products like the Typhur Sync Wireless Food Thermometer.
About Typhur Inc.

Typhur is the creator of world-class kitchen appliances designed to minimize time in the kitchen for non-technical chefs. We harness the latest science and technology to design and develop intuitive, easy-to-use products. We aim to build a sustainable and green business through eco-friendly manufacturing processes, using only BPA-free and recyclable materials. To learn more about Typhur, click here.
Danielle Spoleti
Pulp PR
201-566-6417
[email protected]
Originally published at https://www.einpresswire.com/article/657522302/brooklyn-beckham-partners-with-typhur-inc-to-revolutionize-the-home-cooking-experience