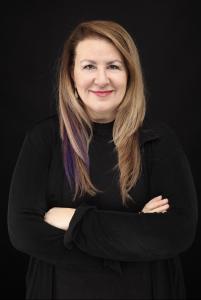 Her recent TEDx talk offers a glimpse into her wealth of knowledge, where she delves into the factors affecting the landscape of small businesses in the US
LANSIG, MICHIGAN , UNITED STATES, September 15, 2023/EINPresswire.com/ — We are thrilled to introduce Professor Amy J. Keely, a distinguished figure in the world of marketing, consulting, and entrepreneurship. Amy, Assistant Professor at Lansing Community College and CEO of Education Success Strategies LLC, is a seasoned professional who has made her mark through groundbreaking work in the field. Her comprehensive expertise, encompassing over two decades of experience, makes her a valuable resource for small business owners seeking insights and strategies for success.
Amy's distinctive approach to research sets her apart as a thought leader in her field. She conducts her own observational qualitative research while meticulously analyzing secondary research to assess the intricacies of small businesses. Her recent TEDx talk offers a glimpse into her wealth of knowledge, where she delves into the critical factors affecting the landscape of small businesses in the United States.
Key Takeaways from Amy's TEDx Talk:
1. **The Reality of Small Business**: Amy emphasizes that small businesses are the backbone of the U.S. economy, constituting 99.9% of companies in the country. Her insights shed light on the pivotal role they play.
2. **The Struggle for Survival**: Despite available government support and resources, Amy reveals the alarming truth that 65% of small businesses fail within a decade, highlighting the challenges they face.
3. **The Impact of American Express' Initiative**: Amy discusses the profound effects of American Express' Small Business Saturday campaign, offering a balanced perspective on its successes and unintended consequences.
4. **Small Business Challenges**: Amy underscores the inherent challenges faced by small businesses, including higher costs, limited buying power, and the influence of inflation on consumer choices.
Amy's personal journey as a small business owner and her experiences in corporate America lend authenticity to her insights. She states, "Having worked for four billion-dollar companies, I have watched the struggles of small businesses. I even owned a small brick and mortar that I closed due to changes made by the local city. I was also teaching at the college while coping with my mom's final stage of Alzheimer's with Sundowners. I'm not alone because that is why others will give up their small businesses to return and work for mid-sized or large corporations."
In addition to her dynamic TEDx talks, Amy boasts an impressive list of achievements:
– **Award-Winning Marketer**: Amy's marketing campaigns have earned her accolades, including an American Marketing Association Award and a Silver Microphone Award.
– **Renowned Educator**: Amy's expertise extends to teaching a diverse range of disciplines, including Management, Marketing, Human Resources, Communications, and more, at both business colleges and art schools.
– **Inspirational Speaker**: Amy has been a sought-after guest speaker at conferences, webinars, corporate events, and TEDx Talks, where she shares insights on Marketing, Entrepreneurship, Corporate Education, and Inspirational topics such as her Lessons Learned from her mother, who was the first female engineer at General Motors.
Amy's profound commitment to empowering small businesses, combined with her extensive knowledge, positions her as an invaluable asset to your audience. Don't miss the opportunity to engage with a leading expert in marketing and entrepreneurship.
Watch Amy's TEDx Talk here: https://www.youtube.com/watch?v=pFC5hZ6ZtLI
Amy Keely
Education Success Strategies LLC
+1 310-800-3621
email us here
Originally published at https://www.einpresswire.com/article/655805926/amy-j-keely-award-winning-marketer-professor-ceo-and-consultant-releases-tedx-talk-on-the-state-of-small-businesses