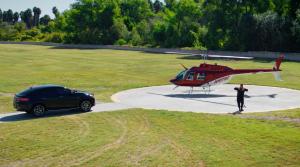 ALIWOOD and West Coast rap legend, The Game, create anthem for all those who have faced skepticism and doubt.
HOLLYWOOD, CA, UNITED STATES, July 5, 2023/EINPresswire.com/ — The latest musical collaboration between ALIWOOD and The Game titled "Trade Sides" is a master piece. This dynamic duo has come together to create a powerful catchy song and music video that delves into the theme of people not supporting your dreams and vision until you become successful. In this captivating track, ALIWOOD's mesmerizing vocals blend seamlessly with The Game's signature rap style, resulting in a captivating and thought-provoking musical experience.
"Trade Sides" is an anthem for all those who have faced skepticism and doubt from others on their journey towards success. It sheds light on the reality that many individuals only jump on board to support you once you have achieved your goals, leaving you questioning their sincerity. ALIWOOD's heartfelt lyrics reflect the emotions of disappointment and resilience, while The Game's raw verses add an extra layer of authenticity and a street point of view to the narrative.
This collaboration showcases the immense talent of both artists as they effortlessly bring their unique styles together. With its infectious beats and relatable lyrics, "Trade Sides" is sure to resonate with listeners from all walks of life. Whether you have experienced similar situations or simply appreciate powerful storytelling through music, this song is bound to leave a lasting impact.
ALIWOOD and The Game have once again proven their ability to create music that not only entertains but also sparks conversations about important societal issues. Through "Trade Sides," they encourage listeners to stay true to themselves, keep pushing forward despite obstacles, and ultimately prove their doubters wrong.
So get ready for a musical journey like no other as ALIWOOD and THE GAME take us through the highs and lows of pursuing our dreams in "Trade Sides." Prepare yourself for an unforgettable experience that will leave you inspired, motivated, and ready to conquer any challenges that come your way.
You can watch the video and read more about "Trade Sides" at the following link.

https://aliwoodrhc.com/2023/07/tradesides/
Video Production Credits:

Director: ALIWOOD

Director of Photography: Brandon Ruiz

Producer & Editor: ALIWOOD

Co Producer: Melissa Wood

1st A/C: Gaurav Shah

Drone Photography: Joshua Newton

Special Effects: Alex Snadin

Colorist: Santiago R.
For more on ALIWOOD visit:

aliwoodrhc.com

or follow him on instagram: @aliwoodrhc
David Lampton
Division Press
+1 909-720-5742
email us here
ALIWOOD – Trade Sides Ft. The Game


Originally published at https://www.einpresswire.com/article/643173245/aliwood-releases-new-song-featuring-the-game-titled-trade-sides