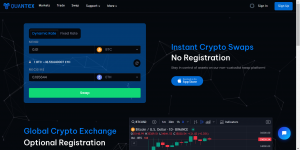 Bridging the Gap Between Self Custody and Functionality: An Exploration into Quantex's Dual Trading Platforms
Quantex meets evolving crypto community demands by offering both non-custodial and custodial platforms, advancing discussions around privacy, while catering to diverse user preferences."
— Andrew Elkhoury, Founder of Quantex
SAN FRANCISCO, CALIFORNIA, UNITED STATES, November 6, 2023 /EINPresswire.com/ — The realm of cryptocurrency trading is evolving with the advent of hybrid exchanges like Quantex, which offers a duality of trading platforms catering to varied privacy preferences. Unlike traditional exchanges, Quantex provides a unique blend of both non-custodial and custodial trading platforms, allowing users to navigate the spectrum of privacy and functionality seamlessly.
The essence of privacy in crypto trading often finds itself at a crossroad with the need for advanced trading functionalities. Quantex's non-custodial swap platform addresses this by offering a space for instant transactions without the necessity of account creation, thus preserving user anonymity. This feature is a nod to the original ethos of cryptocurrency, resonating with individuals who prioritize privacy in their digital interactions.
Conversely, the custodial trading platform of Quantex caters to those seeking a more structured trading environment with advanced features, albeit with a registration process. This dual approach not only enhances user choice but also enriches the discourse on the importance of privacy in the digital asset trading landscape.
As Quantex continues its journey, it aims to foster a community where the discourse on privacy transcends beyond mere discussions, and finds its application in the very fabric of the trading platform.
To explore the nuances of Quantex's dual trading platforms and join the conversation on privacy-centric crypto trading, visit www.myquantex.com.
About Quantex:
Quantex is an emergent cryptocurrency exchange with a vision of bridging the gap between privacy and functionality through its innovative dual trading platforms.
Andrew Elkhoury
User Choice inc.
+1 415-800-4677
email us here
Visit us on social media:
Twitter
LinkedIn
YouTube
Other
Quantex | Swap crypto in 2 mins or Sign up to Trade


Originally published at https://www.einpresswire.com/article/666457940/a-new-generation-of-hybrid-crypto-exchanges-merges-privacy-with-functionality