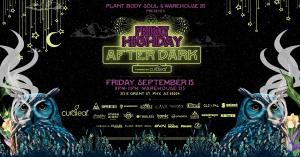 PHOENIX, ARIZONA, UNITED STATES OF AMERICA, August 24, 2023/EINPresswire.com/ — The 4th Annual Friday Highday After Dark event is poised to ignite Downtown Phoenix on Friday, September 15, 2023, from 8 PM to 11 PM. Presented by Plant.Body.Soul. and hosted at Warehouse 215, located at 215 East Grant Street in Phoenix, Arizona, this eagerly anticipated event promises an evening of community, music, art, and cultural celebration.
Organized by Plant.Body.Soul. in collaboration with Warehouse 215, the event offers attendees a bigger and better curated experience, featuring an array of immersive activations that will captivate enthusiasts throughout the night.
Embracing the heart of the Downtown Phoenix Warehouse District, attendees will come together to partake in an evening that harmoniously blends companionship, creativity, and a celebration of cannabis culture. The event will spotlight a selection of premier cannabis brands, each providing distinctive and captivating experiences that showcase pioneering innovation and creativity within the cannabis industry:
Curaleaf (Select, Grassroots, X Bites), Copperstate, High Scorez, iLava, Weedmaps, Timeless, Abstrakt, Smokiez, Nuvata, UpNorth, Wana Brands, Old Pal, Story Cannabis, Ogeez!, Tonic, Summus Cannabis, Rove, Pause Consumption Lounge
Augmented Virtual Reality Experience by Illust — powered by Curaleaf:
Step into a world of wonder as Illust deploys an immersive scavenger hunt and digital art experience. Pairing art, music, and culture with augmented reality in a shared space, Illust's tech and curation services provide new and fun ways for visitors to engage with art, discover new experiences, and connect with others. Featured artists for this experience include Danny Hastings, Eceertrey, Clara Bacou, Mesh, Metamo Industries.
Podcast Confessional — powered by Weedmaps:
Unleash thoughts and share stories at the Plant.Body.Soul. Podcast Confessional, proudly sponsored by Weedmaps. Step into the spotlight and explore the fascinating world of cannabis through open and honest conversations.
Local Musical Talent: The event will feature an eclectic lineup of local artists, including Alaskan Franks and DJ Freedom, ensuring the atmosphere remains electric and vibrant.
Copperstate Lounge with Chef Teresa Hansen:
Experience the newly rebranded Copperstate, complete with a custom lounge, dab bar, Copperstate exclusives, and deliciously chef-crafted bites by Chef Teresa Hansen.
Copperstate is a vertically integrated cannabis company in Snowflake, Arizona, home to one of the largest cannabis greenhouses in North America covering 40 acres under glass and spanning 1.7 million square feet of canopy.
Chef Teresa Hansen is the Director of Edible Operations at Copperstate and the renowned cannabis chef and owner of High Vibe Kitchen Collective. This full-sensory dining experience immerses the cannabis consumer on an elevated culinary journey.
Cannakula Wellness Lounge:
Discover tranquility and rejuvenation at the Cannakula Wellness Lounge, where wellness experiences such as massage therapy, stretch training with The Stretch Zone, IV treatments with Vibe IV Therapy, and a Weedmaps wellness lounge offer attendees a chance to unwind and recharge. Local vendors will also be offering their crafted goods for purchase.
High Scorez Game Lounge:
Level up at the Game Lounge, presented by High Scorez, the newest addition under iLava. Engage in larger-than-life interactive games that promise endless fun and friendly competition.
Abstrakt Community Art Gallery:
Immerse in the vibrant local art scene with the Abstrakt Community Art Gallery. Showcasing and supporting local artists from the Phoenix community, this activation promises an enriching cultural experience.
Sustainability Initiative by Resinate Recycling:
Champion sustainability with on-site recycling provided by Resinate Recycling. Contribute positively by responsibly disposing of cans, bottles, jars, and dispensary packaging materials.
Community Engagement with Balanced Veterans Network & Arizona NORML:
Plant.Body.Soul. is proudly partnering with Balanced Veterans Network and Arizona NORML as their social impact partners for this event. Together, they strive to foster connections, awareness, and education within the cannabis community.
Tickets and Information:
Attendees must be 21+ or 18+ with a valid AZ MMJ Card. Industry Tickets are available for FA/DA cardholders. Must present a valid FA/DA card at check-in. Discounted Veteran tickets are available. Must show Military ID at check-in.
For ticketing information and further event details, please visit the Plant.Body.Soul.'s website: https://www.plantbodysoul.com/calendar
Jennifer Miles
Plant.Body.Soul
+1 855-768-5420
[email protected]
Visit us on social media:
Facebook
LinkedIn
Instagram


Originally published at https://www.einpresswire.com/article/651440681/4th-annual-friday-highday-after-dark-event-returns-to-downtown-phoenix-with-mesmerizing-activations